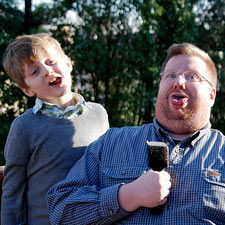 Here's a cool game to play around the dinner table. (And if you're not gathering with your family around the dinner table regularly, what's wrong with you?)
I learned about this from a friendly family I met after a speaking program in Witchita, and here's how it works: Everyone at the table says in unison: "1-2-3 Hush Puppy!" Immediately, all participants have to be completely quiet for as long as possible. You make a noise, you're out.
Now this sounds a lot like the game harried parents like to play in order to trick their kids into some much-needed quiet time, except for this little wrinkle: Everyone is strategically trying to get the other people to make a noise (or even better, laugh) by making silly faces or goofy gestures. The champion is the one who is able to maintain their silence the longest.
Something tells me that three-year-olds rarely emerge victorious.