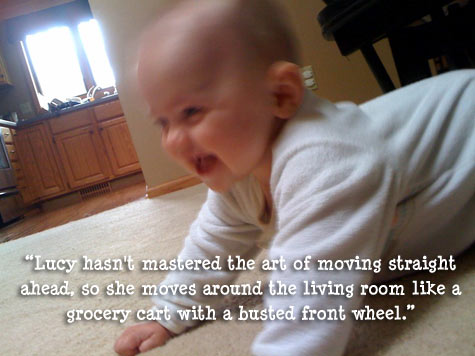 One of my favorite words is "bonk." And if this little chicken nugget of of information doesn't give away my background as a cartoonist, I suppose nothing will. Perhaps you will be as surprised as I was to discover that "bonk" is actually a word. For real. I didn't find it in my old Webster's dictionary that was published in 1984, so I figured it was invented by Charles Schulz the first time Charlie Brown got plunked in the head. But according to dictionary.com, bonk is a real word:
bonk (bŏngk) v. To strike or cause to come into contact: She bonked her head going through the low doorway.
Well, when it comes to Lucy, there's been a lot of bonking going on. Just a shade shy of seven months, she's getting a whole lot more mobile. (Which means Daddy's starting to burn a whole lot more calories.) She can pretty much roll at will, can get up on all fours, and even scoot backwards. She hasn't mastered the art of moving straight ahead, so she moves around the living room like a grocery cart with a busted front wheel.
The other day, she rolled herself up against a closet door. Unintimidated by the obstruction, she geared up for a solid side roll, which led to her bonking her head on the door. Unhurt, but slightly dazed, she regrouped and tried again.
Bonk.
I kid you not, this happened no less than ten times. Should I marvel at her determined persistence or be concerned about her inability to take a hint?
For anyone who has any sort of drive to better themselves and achieve some level of success in life, it would seem to me that one of the hardest things to discern on the journey is when to give up and when to keep going. At least that has been my experience. I've had moments where I've wondered if I've been an admirable example of persistence, or if I've simply been bonking my head against the door.
I have two checkpoints I use to try to figure our which path I'm on. First, I ask myself if the goal I'm trying to achieve is from God. Kind of a hard thing to discern, to be sure, especially because I always feel like I could be spending more time in prayer. But usually, if I'm quiet enough and honest enough, I can tell when my true motives lie. I've found that trying to go ahead with something that God isn't really behind is never going to work very well anyway.
Secondly, I double check to make sure I'm mixing up my technique. Am I trying different approaches in pursuit of my goal? It was Einstein who said, "Insanity is doing the same thing over and over again and expecting different results." Persistently trying to achieve some worthy goal is not insanity, but trying the same technique over and over again in order to attain it is. On his quest to develop the incandescent light bulb, Thomas Edison is famous for saying that he didn't fail, but that he just found 10,000 ways that won't work.
In her quest to go through closed doors, Lucy has found one way that doesn't work and seems intent on trying it 10,000 times. I'd tell her that her approach is never going to work, except that I know eventually she'll try some new techniques and it won't be long before Daddy is chasing her through open doors.
And burning even more calories.