Fire up the ol' time machine for a trip back to the 80's. Here are 22 classic movies from the decade that are worth revisiting for your next movie night. They're generally very family friendly, but some may contain some scary scenes or questionable language, so be sure to pre-screen them if you have little ones!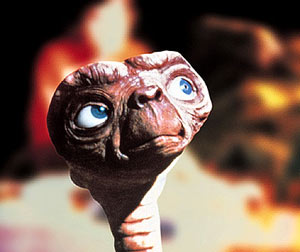 E.T. (1982): A group of Earth children help a stranded alien botanist return home.
The Dark Crystal (1982): On another planet in the distant past, a Gelfling embarks on a quest to find the missing shard of a magical crystal, and so restore order to his world.
Gremlins (1984): A boy inadvertently breaks 3 important rules concerning his new pet and unleashes a horde of malevolently mischievous monsters on a small town.
Neverending Story (1984): A troubled boy dives into a wonderous fantasy world through the pages of a mysterious book.
Ghostbusters (1984): Three unemployed parapsychology professors set up shop as a unique ghost removal service.
Karate Kid (1984): A handyman/martial arts master agrees to teach a bullied boy karate and shows him that there is more to the martial art than fighting.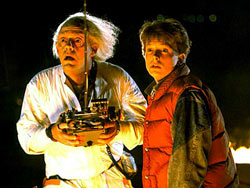 Back to the Future (1985): In 1985, Doc Brown invents time travel; in 1955, Marty McFly accidentally prevents his parents from meeting, putting his own existence at stake.
Real Genius (1985): Teenage geniuses deal with their abilities while developing a laser.
Goonies (1985): A group of kids embark on a wild adventure after finding a pirate treasure map.
Pee Wee's Big Adventure (1985): Eccentric man-child Pee-Wee Herman embarks on the big adventure of his life across the US mainland, as he sets out to find his beloved bike, when it is stolen in broad daylight.
An American Tail (1986): While emigrating to the United States, a young Russian mouse gets separated from his family and must relocate them while trying to survive in a new country.
Short Circuit (1986): Number 5 of a group of experimental robots in a lab is electrocuted, suddenly becomes intelligent, and escapes.
Ferris Bueller's Day Off (1986): A high school wise guy is determined to have a day off from school, despite of what the principal thinks of that.
Lucas (1986): A socially inept fourteen year old experiences heartbreak for the first time when his two best friends — Cappie, an older-brother figure, and Maggie, the new girl with whom he is in love — fall for each other.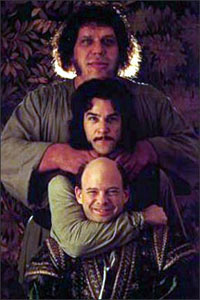 The Princess Bride (1987): A classic fairy tale, with swordplay, giants, an evil prince, a beautiful princess, and yes, some kissing (as read by a kindly grandfather).
Adventures in Babysitting (1987): Chris is settled in for a dull night babysitting when a girlfriend calls to say she's marooned at a downtown bus station with very seedy characters around. The three plus one of the boy's friends get into the parents station wagon for a trip to the inner city. All is well till the flat tire.
*Batteries Not Included (1987): Apartment block tenants seek the aid of alien mechanical life-forms to save their building from demolition.
Beetlejuice (1988): A couple of recently deceased ghosts contract the services of a "bio-exorcist" in order to remove the obnoxious new owners of their house.
Willow (1988): A reluctant dwarf must play a critical role in protecting a special baby from an evil queen.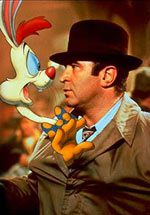 Who Framed Roger Rabbit? (1988): A toon hating detective is a cartoon rabbit's only hope to prove his innocence when he is accused of murder.
Big (1988): When a boy wishes to be big at a magic wish machine, he wakes up the next morning and finds himself in an adult body literally overnight.
Honey I Shrunk The Kids (1989): Wayne Szalinski is your average "nutty scientist", working on a top secret machine which miniaturizes objects. When it unexpectedly starts working, he's so amazed he forgets to tell his family to be careful.
[Plot synopsis for each movie courtesy of The Internet Movie Database.]