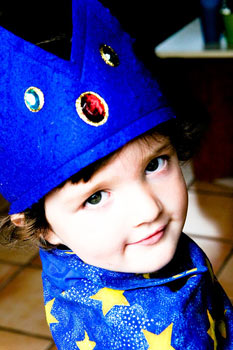 Kim and I recently hosted some good friends for lunch. Among the troupe of visitors was a five-year-old boy with blonde hair named Elroy. He approached the door with a pointy yellow crown stationed on his head. It was crudely bejeweled with markers of varying color.
"What's with the crown?" I asked.
He didn't skip a beat. "I'm the King of Pretending," he exclaimed.
I was honored; it was the first time we were able to welcome royalty into our home. As I observed him throughout the day, playing with cars and creating things out of Play-Doh, it became very clear that this monarch was the real deal. He really WAS the King of Pretending.
What are YOU the king (or queen) of? What is your greatest gift, your natural talent? (Everyone has at least one, you know.)
How much time do you spend on working to develop that gift? One school of thought out there is that we all need to shore up our weaknesses, spending the bulk of our time working on improving the areas where we fall short. The problem with that strategy is that in reality, the most we're ever going to elevate ourselves to is a level of average mediocrity. If that's what you're going for, have at it.
But by spending the time focusing on our strengths, we have a real opportunity to become great at something. Where would Tiger Woods be if he decided to work on shoring up his auto mechanic skills? Or what if Einstein had put his energy into getting good at playing the piano? Or if Bill Gates had decided to make strides in becoming a better basketball player?
We probably would have never heard of any of them.
God designed you to be great. Not average, not good, but GREAT. Not great at everything though; that's his thing. We're all parts of one body, designed to work together. Everybody has his or her part to play. God gave you the raw materials to be great at something, your job is to focus on that talent, develop it, and share it with the rest of us. That's when life transforms from a dull, just-trying-to-get-through-the-day existence into a passion-filled adventure.
What are you the king of? What are you working on becoming great at? Don't be shy; be as bold as Elroy and share your gift with the rest of us in the comments.