It seems as if bad news is everywhere. Apparently, the media gets their jollies on reporting factory closings and the rising unemployment rate. I think the coming "apocalypse" is a bit overstated, but the fact remains: lots of people are suffering.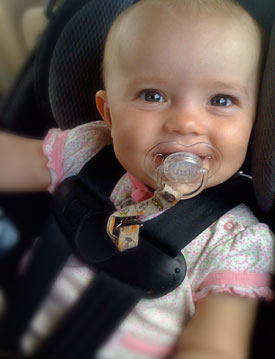 The American government is in fixer mode these days, throwing billions (trillions!) of dollars bailing out poorly run, mismanaged companies faster than the Flash after a double espresso. I just wish someone would tell them to save our money, because none of it is working.
It's an innate instinct, I suppose. We want to help everyone who is hurting, so we naturally think of big programs, sweeping reforms, and major initiatives. My daughter Lucy taught me that smaller things are easier to accomplish — and they actually work.
We were in the airport on our way to Arizona for a convention. A couple of female airline employees stopped to coo at Lucy, who was putting out the extra cute vibe. One of the ladies bent down to get a closer look, and Lucy gave her a big bright smile. "Ooh!" the woman squealed with delight, "My day has already been a good one — a baby smiled at me!"
Lucy's smile parade continued the entire week we were in Arizona. My dad dubbed her the "Queen of Smiles" because her smile made everyone she came in contact with feel like royalty. Her audience included maids, waitresses, porters, receptionists, airport folks, perfect strangers, people of all ages.
I would guess that Lucy instigated well over a hundred smiles that week, without saying one word, passing one law, or spending one dollar. Did she feed the hungry, heal the sick, or provide work for the jobless? No, but I bet she was more effective at bringing light into more lives than the government did over that same stretch of time.
That same week, financial success coach Kim Snider addressed the crowd of speakers at the convention we attended. Regarding the limping economy, she said, "The time of greatest opportunity is when everyone else is curled up in the fetal position."
She's right, you know. No matter what the evening news reports, opportunity is all around us. What's really going to bring us out of this recession is not the misguided efforts of the government, but the innovative ingenuity of individuals, energized by an optimistic outlook of the future.
Have you ever been stuck in traffic and randomly smiled at the person in the car next to you? They can't help but smile back. A simple smile can turn the outcome of a day on a dime — I witnessed it. A simple smile can pull someone out of the doldrums, lighten the weight on their shoulders, and make them more likely to notice opportunities they might have otherwise missed. Today, I challenge you to try and compliment or at least smile at ten people. You never know what big problem your small act might solve.