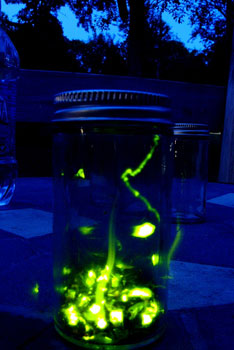 The other night I was sitting in the backyard with my daughter Lucy. We were watching fireflies, aka lightning bugs. I tried catching one so she could see one up close, but chasing down a firefly in the dark with one hand while holding a baby in the other proved trickier than expected.
Deciding to just take in the scene, we sat on the deck and watched them go about their evening routine. Questions started popping into my head. What makes them glow? What purpose does the glowing serve, anyway? And where do they go during the day? After putting Lucy to bed, I decided I was going to do a little research online. After only about 10 minutes of web surfing, uncovered these interesting facts:
Lightning bugs are actually a type of beetle. A ridiculously awesome flying and glowing beetle.
The glowing is used as an attraction strategy in the mating process. So when your backyard is lit up by a bunch of lightning bugs, it means they've turned it into a nightclub.
The insects are able to glow when they take in oxygen and, inside special cells, combine it with a substance called luciferin to produce light referred to as bioluminescence. (I want that!)
Amazingly, almost 100% of the firefly's light is given off as light. By comparison, a normal electric lightbulb gives off only 10% of its energy as light, while 90% is wasted as heat.
Fireflies are nocturnal, so during the day, they're sleeping.
For some unknown reason, fireflies that glow are typically not found west of Kansas.
They only live for about two months. (Which doesn't make me feel so bad about scraping them along the sidewalk to create a flourescent smear when I was a kid.)*
Now, I believe there are three types of people in the world:
1) People who can sit in their backyard watching fireflies and never once wonder anything about them. These people are ridden with Adultitis. Their childlike curiosity apparently leaked out of their ear while they were sleeping one night while happily dreaming about filling out tax forms.
2) People who can sit in their backyard watching fireflies, have a few questions pop in their head, and do nothing about it. This is where the majority of people live. They have questions but don't pursue any answers because they're too busy, get distracted by something else, or rationalize that the answer has no bearing on their life whatsoever and conclude that it's not worth the effort.
3) People who can sit in their backyard watching fireflies, have a few questions pop in their head, and go get answers. This is the Adultitis-free crowd. These are the folks who follow the example of children, who ask questions until they find an answer. In this particular example, I happen to fit here, but I must admit that I find myself in group number two way too often.
In our goal-driven, achievement-oriented society, we get caught up in the thinking that everything we do has to serve some practical end. But every aspect of our lives doesn't have to be a step in some larger objective. And just because something is urgent doesn't necessarily mean it's important.
When we only follow the well-traveled freeways leading to known destinations, sometimes we find ourselves at a dead end.
When we don't ever venture down the little side paths of life, the ones that don't seem to lead anywhere particularly important, we run the risk of missing out on some wonderful experiences. Maybe they'll lead to an innovative breakthrough on a problem we've been struggling to solve, or maybe they just enrich our lives with a new level of understanding and appreciation. Sometimes they lead us closer to God.
When you have a question, don't stop there. Pursue the answers, no matter how insignificant they may seem. You never know what you might learn or where you'll be led in the process.
*Lightning Bug Sources: Firefly Files, Backyard Nature, Bioluminescence Web Page, National Geographic.