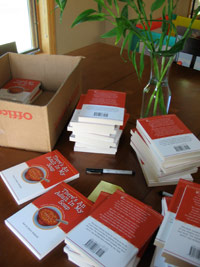 I remember practicing my autograph when I was in the seventh grade. I filled up the margins of notebooks (most of them math, I'd guess) with my official John Hancock. It looked nothing like how Mrs. Smith expected me to sign my book reports: straight with neat loops and perfectly spaced letters. I had determined early on that if it was legible, it wasn't a real autograph.
I must admit that I did wonder why professional athletes couldn't do a better job of writing their name. Some of them just wrote their first and last initials followed by nothing more than lines. It seemed rather lazy.
Try as I might, I could never quite match the cool confidence of Michael Jordan's signature, which was printed on the poster hanging on my bedroom door. No, mine always looked more like the signature of a kid who forgot to sign his book report and scribbled it on as he handed it to the teacher.
But practice I did, imagining the day when some kid would come up to me at Wrigley Field, begging for the autograph of yours truly, the starting second baseman for the Chicago Cubs. Fast forward about twenty years, and instead of signing baseball cards, I sign books and prints. (Sometimes t-shirts and once a pink Chuck Taylor shoe.) So far I have yet to sign any female body parts, which I suppose is a good thing, as it keeps me from getting into trouble now that I'm married and whatnot.
I have signed enough books in the last week to make me reflect about those days in seventh grade. Signing hundreds of books at a time is not nearly as glamourous as it seemed back then, but I do have a newfound understanding for those athletes and their ineligible scribbles. It's a lot easier to sign 100 books than 100 book reports, and so my signature looks a lot more like Michael Jordan's than one that would make Mrs. Smith proud.
Autographs are an interesting way to signify importance. What is an autograph, really? For some, it's proof they can share with their friends to say, "Hey, I actually met this guy." For collectors, an autograph can add rarity to an item and increase its value. But more to the heart of the matter, an autograph request is an outward sign that people are paying attention, appreciate what you do, and want to strengthen their connection to you.
I sign books because people nicely ask me to, even though I have the sneaky suspicion that I'm devaluing the book as I do it. Nevertheless, I am proud of the work I sign. I'm happy to see it out in the world and I'm humbled to see it bring some measure of happiness to the people who own it. If I thought it was a piece of crap, I'd certainly be embarrassed to have my name attached to it.
If you were asked to autograph the work you do day in and day out, would you be proud of it? The people who worked on the original Macintosh computer signed the inside of the case. It was a sign of how proud they were to be part of such a revolutionary project.
I wonder what it would be like if everyone was asked to sign or personally endorse their work.
What if all the people who worked on building a house got to sign a shingle that was prominently displayed by the front door? What if nurses and doctors signed the back of a t-shirt of every patient they treated? What if every package of ground beef came with an autographed picture of the farmer(s) who raised the cattle?
Forget for a moment that autograph requests don't come standard with most careers. If yours doesn't, pretend that it does. Are you doing your job in such a way that people would want your autograph? Would you be proud to have your name attached to your work?
No matter what you do for a living, the potential for creating fans is always there, whether they're clients, patients, students, or even your boss. You may never be asked for an autograph, but that doesn't mean people aren't watching.
QUESTION: What do you think about autographs? Do you have a treasured autograph? What makes it important to you?
Pick up your very own copy of "There's An Adult In My Soup," filled with short bursts of inspiration, witty and wise life balance advice, and over 50 fun illustrations.