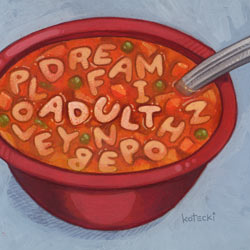 Sometimes authors do expensive, multi-city tours to promote their book. We won't be doing that this time around because our private jet is in the shop. Some jerk keyed it and we need a whole new paint job.
[Although in some respects, our speaking gigs serve that purpose. By the way, if you live near Green Bay, WI, Minneapolis, MN, Rochester, NY, or anywhere in New Jersey, we're gonna be in your neck of the woods in the next month or so. Contact us to get details if you're interested in attending one of our live programs.]
But I digress.
Traditional book tours are all well and good, but this new-fangled thing called the Internet has made possible things known as blog tours. The cool thing about them is that bloggers get some neato content for their blog, we get to keep our adventures through airport security lines to a minimum, and our book gets to reach a whole new audience of really cool people.
If you are a blogger and would like to get involved, here's how:
If you're willing to write a review, conduct an interview with us (by phone or email), or create a video about There's An Adult In My Soup that you'll share on your blog, we'll send you two FREE signed books — one to keep and one to give away or auction off on Ebay for a fraction of the cover price. Plus, we'll also throw in a limited edition soup can which we offered during the pre-order phase and are no longer available.
We're limiting this offer to the first 13 bloggers who respond.
If you think the book stinks, no pressure to write a falsely glowing review. But we're pretty proud of it and think you'll enjoy it, too. It contains a bunch of short essays about how to stress less, have more fun, and pretty much keep the adult out of your soup. Plus it has pictures! Here's what one early reader had to say:
"I have been reading through your book and can only add to the voices of the others.  It is AWESOME, and I say that with all of the background of (1) an adult with adultitis and (2) a person with a bachelor's in Fiction Writing.  The writing is awesome, the construction is so well put together, it just flows from one chapter to the next.  What can I say?  You've really knocked it out of the park on this one, and I REALLY hope you know what a gem you have here, because this book isn't your one in a million — it's your once in a lifetime." –Sherrill Thayer, New Glarus, WI
If you want in, just email me at jason@kimandjason.com and we'll iron out the details.
Not a blogger? You can download a free sample here or buy a fresh copy for yourself right here. Thanks!