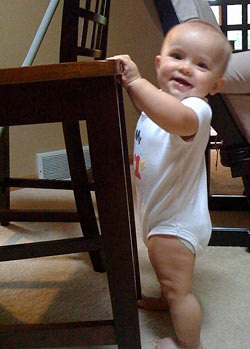 Lucy is mobile. She rolls, scoots, crawls, and pulls herself up on things. I'm considering taping my eyelids open because I know that if I blink, she'll suddenly be walking, running, and asking for the car keys.
I'm certain the little jet setter has cried more times in the last four weeks than she did in her first seven months of life — and 95% of it is all her own doing. (I'll chalk the remaining 5% up to her footie pajamas that make the kitchen floors more slippery and treacherous.) Curiosity is what drives her. She's always looking around, exploring, and discovering new things. In her quest to inspect every square millimeter of our home, she regularly bonks her head or falls down. There's almost a rhythm to it: first you hear a thud, a short beat of silence, and then the high-pitched screams of death that last about three-and-a-half minutes.
Shy of getting her a custom-fitted foam suit and wrapping our furniture in bubble wrap, there's not much we can do.
What's fascinating to me is that the bumps and bruises don't deter her from her explorations. She doesn't shy back from discovering something new just because she's taken a few falls. After recollecting herself — and getting a few healing kisses from Mom or Dad — she's back on a mission to move forward.
It's an interesting contrast to us adults. When we experience a few setbacks, we're ready to pack it in. We allow the journey to beat us.
Even worse, many of us won't even start out, for fear that danger will greet us and we might fail. Or look stupid. Or both.
So we sit on the sidelines with our safety as certain as the fact that life is passing us by.
For Lucy, the desire to see new things and make new strides is so powerful, a few knocks on the head will not keep her down.
What if you could become that bold again? What would you experience? What could you accomplish?