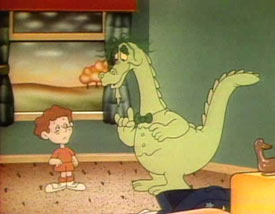 Did you have an imaginary friend when you were a kid? If so, have you ever wondered what he or she is up to these days?
Do imaginary friends age right along with you? Do they grow up and get imaginary jobs and have an imaginary family while living in an imaginary home paid for with imaginary money? (Which, by the way, is the kind of money real politicians like to spend.) Or are they sent to some kind of solitary confinement camp just for imaginary friends who have been neglected?
I don't recall having an imaginary friend per se, but I did inhabit a lot of imaginary worlds as various individuals, superheroic and otherwise. And I still cry any time I hear Peter, Paul, and Mary sing Puff the Magic Dragon.
In a recent interview Kim and I did with our friend Thom Singer for his Some Assembly Required podcast (listen to it right here – it turned out awesome!), Thom mentioned his own imaginary friend from childhood, aka Chuckie.
When he was a boy, Thom's aunt dutifully made peanut butter and jelly sandwiches for him and Chuckie. He admitted that he had lost contact with Chuckie over the years, but our conversation inspired Thom to track him down and see if he'd be willing to write a guest post for his blog.
The search was successful and Chuckie agreed. The resulting post is a creative and insightful account from the perspective of an imaginary friend. (You can even follow Chuckie on Twitter @ChuckieandMargo)
Once you read the post, you'll see that your own imaginary friend might be closer than you think, and probably has an important message he or she has been trying to share.
So the questions I leave you with today are these:
Did you have an imaginary friend? What is he or she up to today?
Follow @kimandjason on Twitter and you'll get funny and inspiring tidbits to help you stress less and have more fun as well as sweet deals and behind-the-scenes news.