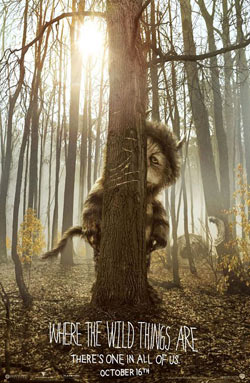 On the plane coming home from New York the other day, after the flight attendant told us to turn off our portable electronic devices, I reached for the Delta Sky magazine in the seat back pocket. I was delighted to find an article on the upcoming movie adaptation of Maurice Sendak's classic children's book, Where The Wild Things Are.
[Fun Fact: When the book came out in 1963, parents and teachers tried to get it banned. It was controversial because kids aren't supposed to be sent to bed without dinner. Pretty scandalous, huh?]
The article featured interviews with two of the actors from the film, Forest Whitaker and Catherine O'Hara, who play Ira and Judith, respectively. It was neat to hear that Sendak was very involved in the movie, and fascinating to hear about the unorthodox technique director Spike Jonze used to coax remarkable performances out of the actors.
According to O'Hara, typical voiceover work [the actors didn't appear on-screen as the actual Wild Things] is done in a studio, often just one or two actors at a time. "For the most part you're by yourself in this kind of vacuum world, hearing other voices or having someone who's not even playing the part read other parts," said O'Hara.
But Jonze didn't go the typical route:
O'Hara: It was nuts! For three weeks he got us all to go up in the woods. The idea of course, was to get us to be like wild things, but also to get us to be like children. I found it really hard at first to just kind of let go and be loose. We were all kind of looking at each other like, "Really?" And then by the end of it we were–

Whitaker: Yeah, everybody was totally involved. Spike had divided us into groups, and we were chasing each other through the woods trying to knock each other out. By the end, everybody was so into it.

O'Hara: It sounds very "method," but it was really fun and silly. And we were in such good company, you wanted to be good for everyone. But I also enjoyed going back to thinking and acting like a child, to be that open and not self-conscious.

Whitaker: We did all the scenes, and we basically just had mics on our heads, and each person would have a camera person to follow us around and watch everything we were doing. Even when we weren't saying lines.
The movie has yet to be released, but it's on the top of my must-see list. Judging from the accounts shared by the actors, my guess is that the extra effort will be what helps make the project go from good to remarkable.
Sometimes, in order to create something remarkable, you need to shake things up, try a different approach and let play enter the picture.
If you're stuck on a project or a product, try a new approach. Relocate your team to a different location. For instance, what if you held your planning meeting at the local pizza joint? Or a park? (Who says meetings have to held in conference rooms, anyway? That's definitely a rule that doesn't exist.)
Be playful, and be patient with the process. It will likely be met with some resistance, mainly just because our childlike side has gotten so rusty. It's awkward at first. Fortunately, Spike Jonze gave his actors permission to let loose. Get your people to let our their inner wild thing and watch the magic happen.
Like this article? Cool. Make sure you're subscribing to our RSS feed so you won't miss out on any future installments of similarly inspiring prose. And stuff.