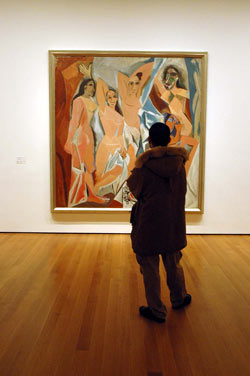 We live in a culture of more. We are conditioned to want more stuff, sure, but also to be involved in more and more activities. Our schedules are bursting with everything from meetings, extracurriculars, and charitable activities to projects, practices, and parties of all kinds, including birthdays, baptisms, weddings and showers.
And of course, we can't say no, for fear that we will appear selfish, offend somebody, or cripple our children's chance of getting into Harvard or the NBA. Sometimes it's as simple as not wanting to miss out on something fun. Having to say yes to all of these things or be crushed under the weight of our own guilt is a rule that doesn't exist.
I get caught up in it myself. I'm prone to wonder (and often doubt) if I'm sucking all the marrow out of life, saying yes to enough things, and collecting enough experiences.
Am I living my life to the fullest?
Then I stumbled across some writings by Thomas Merton, which suggested a few things I've intuitively known all along. In his book No Man Is An Island, Merton wrote:
We do not live more fully merely by doing more, seeing more, tasting more, and experiencing more than we ever have before. On the contrary, some of us need to discover that we will not begin to live more fully until we have the courage to do and see and taste and experience much less than usual.

A tourist may go through a museum with a (travel guide), looking conscientiously at everything important, and come out less alive than when he went in. He has looked at everything and seen nothing. He has done a great deal and it has only made him tired. If he stopped for a moment to look at one picture he really liked and forgotten about all the others, he might console himself with the thought that he had not completely wasted his time. He would have discovered something not only outside himself but in himself.
Merton offers advice that seems to fly in the face of conventional wisdom. Live more fully by experiencing less?
He's right, though, isn't he? How often do people return from vacations more tired than when they left, pining for another vacation just to recover? That's because we try to cram way to much into our getaways. Like Merton's museum visitor, we are convinced that we must do and see and taste everything (or at least as much as is superhumanly possible.)
How much richer would a visit to New York City be if instead of running around trying to see every single famous landmark, you spent a entire day immersed in the Ellis Island experience, or putzing around lazily in Central Park?
I also love this quote from Merton: "Everything depends on the quality of our acts and our experiences. A multitude of badly performed actions and experiences only half-lived exhausts and depletes our being."
We engage in far too many badly performed actions, if you ask me. Rushing through dinner so we can get our kids to practice on time. Lunch with a friend spent distracted by texting and checking voice mail messages. Spending our time watching the penguins at the zoo thinking about what four exhibits we should go see next.
This idea of simplifying your life by doing less is the key to finding peace and happiness. It may be the message that this current generation needs to hear more than anything. Loyal readers know that this is something we try to advocate right here. But there are a number of other great resources out there as well. Some of my personal favorites include Zen Habits, Zen Family Habits, OnSimplicity, Man Vs. Debt, Exile Lifestyle, and The Happiness Project. Each of these sites do a great job of challenging me to take a hard look at my own life and discover what areas might benefit from a little downsizing and simplification.
I think Merton was right on. We will not begin to live more fully until we have the courage to do and see and taste and experience much less than usual. What say you?