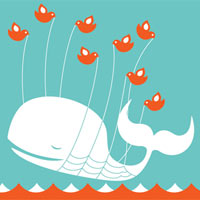 Some people love Twitter. Others don't get it. Believe me, I don't have much interest in knowing what people had for breakfast or what sort of fungus is growing on their foot. It took me a while to "get" Twitter, and I've become a big fan. I've realized that if you don't like being inundated with boring, stupid tweets, you need to follow more interesting people.
I've decided to use Twitter as a way to add value to the members of Kim & Jason Nation. I tend to include links to stuff that doesn't make it into a full blog post. If I don't think something is 1) useful, 2) inspiring, or 3) funny, I don't tweet it. Simple as that. We have enough noise already, so I don't want my Twitter feed cluttered with a bunch of irrelevant chatter.
I've included a sample list of tweets below. If you love Twitter and are into escaping adulthood but aren't yet following us, hop to it. If you're still on the fence about whether Twitter is cool or a sign of the upcoming apocalypse, maybe you should follow us @kimandjason before you make up your mind.
On Making An Effort To Be Childlike – With A Little Help From Pokey: http://tinyurl.com/ykad6fn (via @dinnertogether)

RT @stevobaggins: http://twitpic.com/m985u – Lunch. By my creative 3 year old. (from @aaronshust)

The all-time greatest children's books, then and now: http://bit.ly/45YfJ1

Speaking this weekend to nice folks in NJ. My most important message for them: say no to the good so you can say yes to the GREAT.

Some parents are verbs; others are nouns. We need more to be verbs.

Trick or Tweet! Cute Hostess Tote Bag–was $41.95 – now just $20.00! Only THREE left: http://bit.ly/20DJlu

"I like your new shampoo, Mom. What's that scent — vinaigrette?" More fun stuff kids say: http://bit.ly/Le7mb (via @janniefunster)

RT @zappos: Whenever people say "Bah!" I like to reply with "That's what sheep said."

If you finally find the time for something important, tell me where you found it. I thought 24 hours a day is all we got.

How to Build a Haunted Garage with Stuff You Already Own http://bit.ly/kiRYS

RT @jimgaffigan: I don't know if the cold weather makes me tired or the fact that I'm lazy makes me tired.

Adulthood has its perks. Feeling Good About Feeling Old: http://bit.ly/QWcz4

RT @JensBookPage: Ten Ways to Involve the Whole Family in Reading Aloud from @BookChook http://tinyurl.com/ykmwo6v

May the force be with you. Here's some rare Star Wars photos: http://bit.ly/38bzAF

Why do our buildings have to be boring (and rectangular)? Hint: they don't. Check out these FUN designs: http://bit.ly/14arAx
Follow @kimandjason on Twitter and you'll get funny and inspiring tidbits to help you stress less and have more fun as well as sweet deals and behind-the-scenes news.