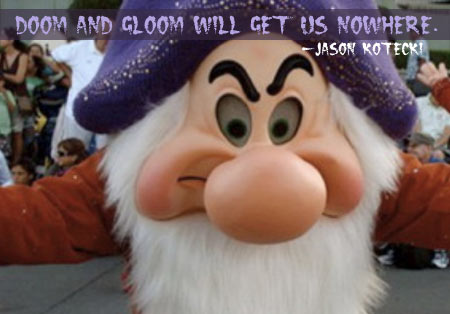 I feel like I need to take a shower. Kim and I just got done doing a business-themed radio interview with a couple of female hosts who were two of the most Adultitis-ridden people I've come across in some time. Arrogant and pessimistic, the duo was unprepared, unenthusiastic, and utterly unhappy.
I normally have a great time doing interviews, but not this one. It was an hour in hell.
I should have known from the start we were in trouble when one of the hosts started talking about how she was going to Chuck E. Cheese's to help celebrate her grandchild's birthday. I thought she was sharing this as an example of how she'd be escaping adulthood, but instead she proceeded to lament about how much she dreaded going.
Kim and I tried our best to keep a positive spin on things and attempt to offer the listeners helpful insights. I'd hoped that I could say something that would bring a little light into the lives of the hosts. But I knew I faced an uphill battle. I learned long ago, that despite my best efforts, it's impossible to make a dent in someone with full-blown Adultitis. For one, they don't ever admit they have it. And because of that, they aren't open to any kind of change.
It became pretty clear that they were more interested in hearing themselves talk. They barely knew what we did, didn't know our website, and didn't even know if we were husband and wife or brother and sister. I think we held our own, and gave out some good information.
Sometimes I wish I could be more unabashed in my opinion giving. I wish I wasn't averse to hurting people's feelings or caring so much what people think of me. Since I was raised to be polite, I kept a lot of thoughts to myself. But if I were brave, and living in Bizarro World, here is what I would have said:
* * * * *

(Click play to listen to my rant or keep on reading.)
I'm sure it must have been hard being a woman in business twenty years ago. I am sure that lots of people were waiting for you to fail. I don't doubt that you felt you had to do twice the work to gain the acceptance of your male coworkers. But you did it. You took the slings and arrows. You persisted. You prevailed. You're at the top of your field. You make a good salary. You have a great deal of influence in the community.
So why are you still so damn unhappy?
You can also complain all you want about the younger generation coming into the workforce with high expectations and an entitlement mentality. You say they don't appreciate the value of hard work and what it really takes to make it in business because they've been used to winning more times than not and for getting trophies when they finished last.
But let me ask you this? Who raised this generation? Wasn't that…you?
Perhaps you felt guilty because you worked so many hours and your kids spent so much time in day care that you gave toys and trophies at every turn to boost their shaky self-esteem and assure them that you did indeed love them. Perhaps you are now reaping what you sowed.
I also wanted to congratulate you for being so important that you have so many emails flooding your inbox. (It is after all, a competition, and you are clearly the winners.) Because you are so in demand, it's impossible to keep up to it all, what with so many people expecting you to get back to them within minutes. And that stinks that the economy-inspired budget cuts have done away with your personal assistants that used to do your grunt work.
According to you, this overload is unavoidable. Your line of work insists upon this crazy pace, and there's nothing you can do about it. Unless you want to get fired or something. Because as you seem to indicate, the only way to avoid losing your job in this terrible, terrible economy is to take your job (and yourself) as seriously as humanly possible and relinquish any hope of having time with the people you care the most about (unless those people are your co-workers.)
Guess what? Sorry to disappoint you, but you're not the victim here. Someone gets the final say, and that person would be…you. I know it may be hard to believe, but you actually have control over your life. Shocking, isn't it?!
But you're probably right. Setting up limits for people on how to contact you and when they can expect a response is completely unrealistic and undoable. It'll probably get you fired. And then you'll end up homeless and starving on the street with absolutely no means to find another job (or create your own!)
Because after all, as you mentioned (about fifteen times), the economy is really, really bad. Funny I hadn't heard about that before. Thanks for giving me a clue.
But here's a thought: contrary to popular belief, just because the economy is in a recession doesn't mean we all have to go around with furrowed brows and serious demeanors. Doom and gloom will get us nowhere, girls. Should we pretend that everything is all daisies and lollipops? Of course not. Clearly, we are living in uncertain times.
But are we ever living in certain times?
Pessimism is not the answer (oh, and I know you'd call it realism.) It's terribly difficult to come up with creative solutions to our current problems when we're choked with fear and worried about getting hit by pieces of the falling sky. In fact, a great way to sink your company even deeper in the hole is to stop smiling at customers, engage in pressure selling, and spend most of your time looking over your shoulder hoping to not be fired.
I know, I know, I'm just one of those unrealistic Generation Xers without a clue. Allow me to ask you just one final question:
What have you done today to add a little joy to your soul?
Nothing?
I thought so. Might want to start there, ladies.
Sign up to receive our free newsletter to get regular reminders and tips for stressing less and having more fun. Consider it a well-deserved jolt of happiness for your inbox.