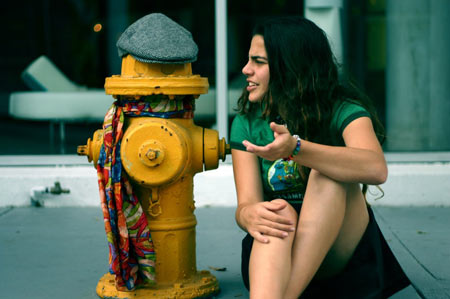 So here's a fun game to play with friends, family, co-workers, or fellow mental patients. It's an idea that was shared with me by a woman at a nursing home social workers convention I recently spokeat. What I love about it is that it doesn't cost a dime, you can play with any number of people, you don't need any special props, and you can avoid boring small talk. (Score!) It's perfect for road trips and family get togethers. Here's how it works:
One person starts the conversation with any random statement. Immediately, the next person has to follow that up with a statement or question that has absolutely NOTHING to do with the previous one.
"I have to change the oil in my Honda."

"Don't you just adore eggplant?"

"Those postage stamps are quite colorful."
On and on the game goes until someone hesitates or trips up and responds with something relevant. Pausing for a second is bad. Being relevant is bad. For instance, if you replied to the first statement above about the Honda, "My car needs a brake job," you're out, baby.
Up the level of fun and difficulty by seeing just how fast you can keep the crazy conversation going.
P.S. I cannot be held responsible for anyone who may be inadvertently taken off to the looney bin during the course of playing this game. I say we blame the nursing home social worker.
Like this tip? Cool. Make sure you're subscribing to our RSS feed so you won't miss out on any future installments of similarly wonderful ideas of fun and frivolity.