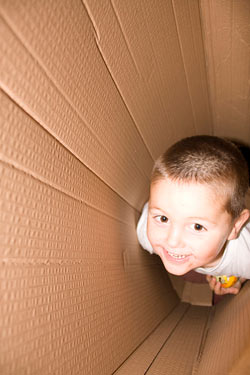 Thanksgiving week is interesting because one minute you're feeling thankful and blessed for all you have, and the next minute Black Friday strikes with everyone wanting more and more and more. For me, shopping on the Friday after Thanksgiving is like going to a funeral the day after a wedding.
What a buzz kill.
The fact that a 34-year-old Wal-Mart employee was trampled to death last year at 5am by a bunch of shoppers just makes me sick. Why is our society so crazed for stuff? I have the answer. It's simple and really sad.
Stuff makes people happy.
(At least that's what our actions are saying.)
It's easy to fall into this trap. It's a cycle: You get something new that you've pined over for a while. You enjoy having it. Inevitably, the happiness starts to fade. (Heck, even the new car smell eventually goes away!) Then it's time to move to the next big thing.
Now, don't take me for an extremist; I have lots of "stuff" too. I'm just asking the question…why? Is it necessary? I was inspired by an anonymous quote I saw the other day. It said, "All we have is all we need."
Wouldn't life be infinitely more rich if we all truly lived with that mentality? Instead of spending your energy longing after material sources of fleeting happiness, you'd actually experience true joy that comes when you're living in the moment, loving what you've been given, and savoring the moments with those you love.
Am I selling a life of "sunshine, lollipops and rainbows?" Maybe. But that true happiness I'm referring to is available. And it has nothing to do with more stuff. It's found in its purest form in the little child who receives a fancy gift for her birthday and chooses to play endlessly with the box instead.
To me, the cardboard box represents the simple things in our life that bring real, lasting happiness. They might not be new or fancy or expensive or electronic (or even tangible.) They're classic. Timeless. Priceless.
What is YOUR cardboard box?