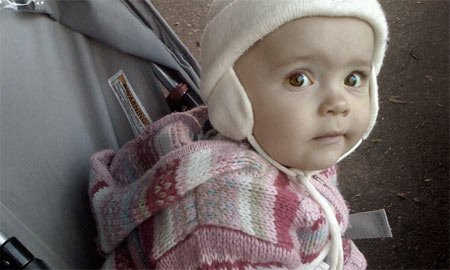 Lucy is one year old today. Happy Birthday, Lucy Ruth!
She's in that cute stage where she reaches out for things that she wants. Typically, her reach is accompanied by a grunt, as if to say, "gimmie that!" On Sunday morning in church, as I held my bundle of energy (not unlike wrestling a cat), I couldn't help but observe her noticing something. Unlike other parts of the service, she wasn't reaching for the guy's coat in front of us or the bag of mini-marshmallows his four-year-old son was inhaling one by one (which was hilarious, by the way).
No, Lucy watched intently with a twinkle of excitement in her hazel eyes and she outstretched her arm. But what was she grabbing at? There was (seemingly) nothing there. She was stretching her short arm towards the ceiling of the beautifully high-pillared church. Confident and poised, she definitely wanted what she saw.
With the sun shining beautifully through the stained glass windows, her eyes glowed with wonder. For a moment I tried to sneak a peek, looking in the reflection of her eyes to see if I could catch a glimpse of what she was seeing. Could it be the dancing of angels? Were they entertaining her? Were they singing? Was it a breathtaking sight? I wanted so badly to see. Sadly, I realized that my eyes are probably too old to see what little newbies like Lucy are privy to.
Whether you have faith or not, it was undeniably obvious that Lucy was reaching out for something. The hardest, most cynical, crustiest Adultitis-ridden grown-up could argue that she was simply reaching for the ceiling. This could be true. However, I've never seen her reach for a ceiling before. That same grown-up could argue that she was just being silly, looking at nothing. However, as her mother I would argue that Lucy's eyes were far too engaged and mesmerized to be looking at "nothing."
I think little ones are on a different spiritual plane than us adults. They experience life and see the world through new eyes, through eyes of possibility, bliss, and love. Since their lives are free of junk (sin, guilt, and fear, to name a few) they are still able to see things that the average grown-up no longer can.
What a gift to be in the presence of one of these little spiritual bundles of life. Lucy, whose saintly namesake happens to be the patron saint of those who are blind, helps me to see life in a new way every day. In a world filled with criticism, deception, skepticism and anxiety, the look in Lucy's eyes on Sunday reminded me that there is something to be hopeful about. There is more out there than our eyes can grasp.
As we celebrate her first birthday, I am so grateful for the light she brings to my heart and for the hope she instills within me.
A hope that reminds me of the day when I, too, saw angels dancing at church.
A hope that assures me that I will get the chance to dance with them someday.
Like this article? Cool. Make sure you're subscribing to our RSS feed so you won't miss out on any future installments of similarly inspiring prose. And stuff.