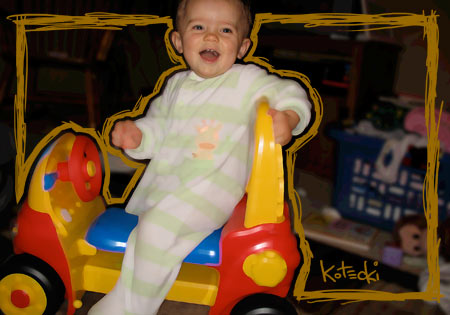 It's easier to be a human doing than a human being.
I have the good fortune of spending two hours each morning with a little bundle of energy known as Lucy. She recently became interested in bringing me books to read to her. I enjoy this new level of interactivity, even though the subject matter is less than stellar. The ones she seems to enjoy the most are the ones with the least regard for a plot (unless you consider journeying through the alphabet from A to Z captivation of the highest order).
During our time together, I too often I operate under the premise that I only have two options in how I spend the time. One allows me to be actively engaged with her, reading books or playing side-by-side. The other option, if she is playing contentedly by herself, insists that I should have my laptop open and use the opportunity to get something productive done. Like coming up with an idea for a blog post.
I was reminded today that there is actually a third choice.
The third choice, effectively labeled "none of the above," is a pretty simple one, although surprisingly hard:
Just be.
So I tried it. I just sat on the ground, with my back against the couch, in silence. I gave myself permission to leave my laptop right where it was — closed. I watched Lucy go about her business from one toy to the next. I started paying attention to my breathing, making a conscious effort to slow it down. I marveled at my ability to easily detach from myself and get lost in contemplation. Then I looked at the clock.
Exactly one minute had passed.
Ahem.
Undeterred, I got back to breathing. Eventually, I really was able to let go. I watched Lucy play, without giving in to the urges to help her correctly stack the blocks or shower her with positive feedback. Instead, I chuckled at how she waddled from one thing to the next on legs that weren't as fast as her mind. I noticed the sunlight shining on her hair. I marveled at how tall she's gotten. I just enjoyed being in her presence.
All in all, it was the best fifteen minutes I'd spent in weeks. Peaceful. Relaxing. Energizing.
It took a while to let go of the idea that I should be "doing" something. But once I was able to finally let go and just "be" in the moment, an amazing sense of peace came over me. I felt present. I wasn't worried or anxious about anything. I experienced a deep sense of gratitude for my life, my home, and my little girl.
And lo and behold, I came up with the idea for this blog post.
There's a good chance that this little story sounds appealing to you — a chance to do nothing? How great would that be?! But alas, the loudest of the inner voices shouting within you exclaims that you don't have the time to just be.
The loudest of your inner voices is often the stupidest.
During the course of your day, you have plenty of opportunities to just be, even for just 5 or 15 minutes. In the shower. During your commute. Waiting in line. The real problem is that you don't take advantage of the opportunities when they come, because the whole process is so dang uncomfortable.
Your mind is uncomfortable with the silence because you are so conditioned to the noise.
The lack of movement is unsettling because you're always on the go.
Not to mention, it's almost impossible to feel productive when you're just "being." And productivity is our favorite drug of choice.
So since it is easier to be a human doing, that is exactly what we do.
The thing that makes music beautiful is not just the notes, but the space of nothingness between them. Were it not for the spaces of nothingness, music would be like an annoying fire alarm. And when we busy ourselves doing anything we can, doesn't life sometimes seem like that? Loud. Frantic. Unrelenting. Overwhelming. Stressful.
It takes practice to embrace those five minute chunks of time each day provides and use them to just be. It's hard. But don't let the difficulty discourage you. It gets easier the more you do it.
It may be easier to be a human doing than a human being. But if you want a life that isn't burdened by stress and Adultitis, you might want to practice the "being" part a bit more.
Let some quiet spaces into your life and enjoy for yourself the symphony of the human experience.
Like this article? Cool. Make sure you're subscribing to our RSS feed so you won't miss out on any future installments of similarly inspiring prose. And stuff.