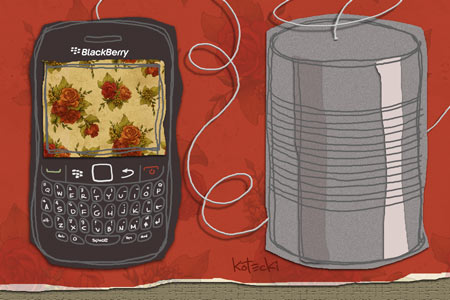 I was moderating a panel on work/life balance a few weeks ago. A woman on the panel, at the height of a very distinguished and accomplished career, talked about the demands of her job and the stress of dealing with the high expectations of her clients.
"A group of us finally sit down to a late lunch," she said, "and in less than five minutes, buzzing Blackberrys are dancing all over the table. And of course, I have to answer it. If I don't return a call within 15 minutes, my clients go crazy."
Perhaps you can relate to this scenario. How can anyone achieve life balance with A.D.D.-riddled Blackberrys and clients who think you live at work, right?
Except there's one problem: If your life balance is screwed up, it's your fault, not anyone else's.
After the woman was done with her little rant, a silver-haired man with a relaxed, easygoing nature proceeded to obliterate her reality right out of the water.
"I think that what we fail to realize," he began, "Is that WE set the expectations, not the client. At the very beginning of the relationship, if you answer every call or email within the hour, they'll begin to expect that. Which then makes you feel even more obligated to live up to those expectations."
"It takes a conscious effort to NOT work on a Saturday or come in at 7 a.m.," he continued. "If you typically come in at those times, your boss and colleagues will come to expect that as well, and they'll find stuff for you to do at those times, making it more likely that you'll feel like you NEED to be there at those times."
It's a vicious circle begun by our own hand.
Perhaps even more fascinating to me was learning that this guy didn't even have a Blackberry (or an iPhone). He only checks e-mail a few times a week. And even airport security screeners don't believe him when he tells them that there is no computer in his traveling briefcase. And yet he has a similarly flourishing career, is well-respected in his industry, and serves at high levels on the boards of multiple professional and charitable organizations.
It's always easier to point to someone — or something else — as a reason why we're always running on fumes or don't get to see our kids as often as we'd like. But these are merely excuses, and as Alexander Pope said, "An excuse is worse and more terrible than a lie; for an excuse is a lie guarded."
The good news is that expectations can be reset, sometimes as simply as having one conversation with your boss or client. In his book, The Four-Hour Workweek, Tim Ferriss has a great chapter on how to reframe the way you do email, decreasing the amount of time you spend managing it. No matter what expectations you want to reset, it all comes down to old-fashioned communication. I've found that it's awfully hard for someone to take you to task for honestly and directly expressing your desire to spend more time with people you love.
Yes, it is possible to rework your schedule in order to spend more time with your family.
Yes, it is possible to only check email a few times a week without your career going down in flames.
Life balance is YOUR choice. It's not decided by anyone else. Realizing that fact is first step in creating a life with a minimal number of "I wish I wouldas." Because when you get to the end of your life, it's not gonna do one bit of good to blame your regrets on your clients, your kid's coach, your boss, or your Blackberry.
Sign up to receive our free newsletter to get regular reminders and tips for stressing less and having more fun. Consider it a well-deserved jolt of happiness for your inbox.