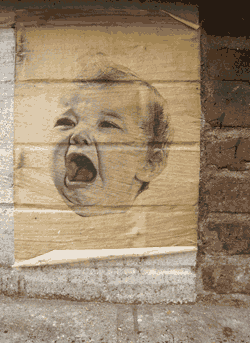 Last night, Lucy screamed and cried for 90 minutes straight. Jason and I are convinced that every baby has a "thing." We escaped colic, gassiness, and sleeping problems, but teething has proven to be Lucy's archnemesis. Those 90 minutes last night definitely ranked up there as some of the worst minutes of my life. Screaming "mama" over and over again, Lucy was in pain and she wanted me to take the pain away.
I tried everything…
Walking her around the house. (Check.)
Singing. (Check.)
Talking softly. (Check.)
Tylenol. (Check.)
Playing her favorite song on the iPod. (Check.)
Rocking her in the glider. (Check.)
The results were the same every time: frustration and anger. The only thing that would keep her as calm as she was going to be in this pain-filled state was to just let her sit on my lap and "be." No talking. No pursuading. No distracting. No touching, even. She was in pain and she needed to scream it out.
This experience taught me that "noise" can be annoying.
Sometimes it's necessary to just sit and be. It allows you the opportunity to truly engage in the moment. We're so good at filling our attention with noise. To me, the sign of a great relationships is when you can be together for hours and not have to talk hardly at all. Comfortable silence is the litmus test of a solid relationship. It's pretty refreshing to just shut up and be together – no TV, no music, no distractions. Eventually, Lucy's screaming turned to silence and she sat still on my lap exhausted.
These 90-minutes also taught me that sometimes pain can't be taken away.
I am often guilty of packaging problems into tidy little boxes, so that they will have equally tidy solutions. Life doesn't always work this way. Sometimes pain is pain and you have to just experience it.
Sure, there's a pill for almost every problem, but are we missing out on the opportunity for a spiritual experience by muting every little ache (emotional and physical)? If you avoid all pain, you miss out on a part of being human.
At a recent funeral I attended, the priest said something that will stick with me forever. He said to those present, "Your pain today proved that you really loved." What a gift it is to love so deeply that you put yourself in the position of loss and heartache.
Lucy was born in the water at the Madison Birth Center – a natural childbirth with no meds. This experience taught me a book full of lessons, but if I had to summarize it into one sentence it would be this: "Pain teaches you about yourself." When you have to rely on something greater than yourself in order to continue, you realize the true source of your strength (and it's NOT you). It's humbling and empowering all at once.
What has pain taught you about life?
How has your pain impacted your view of yourself?