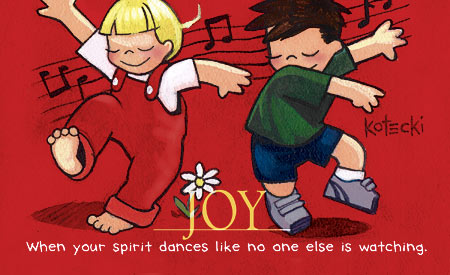 It wasn't long after she learned to walk that Lucy started dancing. It began with little head bobs and knee bends. Now, when a fast beat is bursting from our living room stereo, Lucy is the first one to come running. Spinning, twirling, and bouncing, she's a whirling dervish of dance moves.
I hate it that we lose that free-spiritedness as we get older. Most of us, anyway. Me included.
Oh sure, it's one thing to dance up a storm from the privacy of your own living room, but out in public? Not so much. Of course, Lucy's dancing bug is location independent. Inside or outside, if the music moves her, she's a dancing queen.
Stupid Adultitis.
It convinces us that we'll look stupid or embarrass ourselves if we let loose a little bit. And so we don't. We stay tight in our safe, comfortable little cocoons, while stress and anxiety entomb us. Rock the boat? Not me. Call attention to ourselves? Not a chance.
Stupid, stupid Adultitis.
While we heed its warnings and try to avoid being looked at or labeled as foolish, we never stop to ask the question, "Who cares?" Adultitis doesn't like us asking that question, because it's the one that reveals the fact that the emperor isn't wearing any clothes.
I got an email the other day from Katrina, a 5th grade teacher in the suburbs of Chicago. While standing around at a movie theater, she and her friends got into a conversation with a young girl:
We learned in this conversation that she was involved in gymnastics. So naturally, she wanted to show us her skills. This was great. A little girl doing cartwheels and a back bend or two in the lobby of this movie theater. After a few minutes, she looked at me and said, "Ok, your turn."

What?!

Ok, I can do a cartwheel, a round off, and most of the time a handspring — but here?! Now?! With other people, church-goers, and movie theater people watching?……OK!

Yes, I did. I found my almost 27-year-old self doing cartwheels and roundoffs with a 6-year-old in the lobby. We roped a friend of ours into doing handstands and somersaults with her. He was not nearly as good as she was. It was so funny to watch. Ah, laughter- where have you been! (My friend) is older than I am, and probably found himself asking himself the same questions I was asking myself: "Am I really doing this? Is anyone going to care?"

The funny thing is no one said anything. We didn't get yelled at, kicked out, NOTHING! In the end, it was so freeing. It felt awesome to act like a six-year-old. I find that I have to be all grown up at work. It was great to not care.
Did you notice that? No one stopped to point and laugh at Katrina and her friend. No one suggested that they should take their hijinks to the local park or threatened to call the shame police. They probably looked extremely silly, but — gasp! — no one cared. The world kept on spinning. And laughter was able to work its Adultitis-melting magic in Katrina and her friends.
While we are buy into Adultitis' advice about avoiding foolishness at all costs, we often fail to realize that our childlike outbursts might actually uplift someone, and brighten their day. There's no doubt in my mind that the people who witnessed Katrina's cartwheels smiled, encouraged to witness an example of someone not taking themselves too seriously.
Or take car dancing.
You know, that irresistible urge to gyrate and groove while driving down the highway when your favorite song comes on the radio. We tend to downplay our drumming on the steering wheel when there's a chance another driver will spot our shenanigans.
But what if instead of them thinking we're a little loony, we were actually giving them some relief? Happiness. Hope.
The Levity Project recently sponsored a micro-movement in which they invited people all over the world to send in videos of themselves car dancing. Ina Lucas, Operations Manager of The Levity Project, had some provocative insights to share about her involvement in it:
What I've found by being freer in my dance, is that it breaks down the walls between people. We live in a car society where everyone is cruising around in their own worlds, disconnected from everyone else. When you share the joy that comes out of you when you dance, you break through the barrier of the car shell, and you touch someone or make them smile and bring a human connection to their day.

Now you're an agent of social change at the wheel. Maybe that person didn't know how they were going to pay their bills, but they saw you dancing and they saw you in your freedom and in that moment, they felt relief. Or even happiness. Or even the feeling that everything was going to be OK. THAT is powerful stuff!
Watch this video and see if it doesn't indeed make you smile.
There is nothing dangerous about car dancing at a stop light or doing cartwheels in public, but we avoid them as if they were. As I once heard Lou Heckler say, "The world is aching for a little silliness." Join me in an effort to be a little bit more willing to let that childlike spirit out and play — especially when other people are watching.
The world is indeed aching, and you can help provide the cure.
Sign up to receive our free newsletter to get regular reminders and tips for stressing less and having more fun. Consider it a well-deserved jolt of happiness for your inbox.