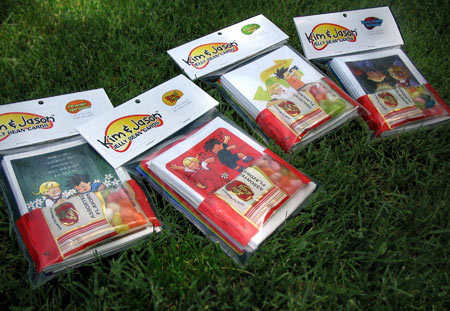 It was the classic dilemma of childhood. You walk into a candy store, greeted by the jingling bell tied to the front door. Your feet shuffle across the black and white tiled floor to the glass case showing off its colorful assortment of sugary goodness. Holding everything from fudge to to gumdrops to saltwater taffy, it was willing to part with its carefully guarded yummy treasures — at a price. You'd plunk your handful of pennies down on the counter and begin the thoughtful deliberation.
Sadly, the days of being able to buy candy for a penny are behind us, and the old fashioned corner confectionery stores have been overrun by the generic big box behemoths. Perhaps equally distressing is that in an age where everything seems to be digital, virtual, and anonymous, we're slowly losing the art of the handwritten note.
It is with that yearning for yesteryear that I am happy to announce the release of some pretty sweet greeting card sets. The die-hard fans who've been with us from the beginning will remember these babies. Back in the day, we sold them to gift shops and as part of a fundraising program. Back then, they only had 8 cards in a set.
Not anymore.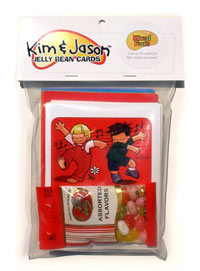 This creative little number marries the nostalgia of the old Mom and Pop candy store with the old school charm of real, heartfelt, honest-to-goodness greeting cards. Hand-packaged in a manner fit for a classic candy spinner, each set contains 16 greeting cards and a rainbow's assortment of 16 envelopes. The cards feature warm and vibrant Kim & Jason artwork paired with various sentiments on the front. The insides have been left blank for adding your own personal, handwritten touch — the kind you just can't get with an email or text message. Made in the good ol' US of A, we also donate 3% of every sale to charities that help children.
Oh, and we've also thrown in a bag of delicious gourmet Jelly Belly jelly beans to satisfy your sweet tooth. Greeting cards are meant to be sent to friends, but we won't tell if you decide to keep the beans to yourself :)
We're launching with four delicious "flavors" (although a set of Christmas cards is already in the works):
You get 16 cards and envelopes — plus the Jelly Belly jelly beans! — for just $20. They're available now, but only at The Kim & Jason Lemonade Stand.
P.S. Kim & Jason Insiders knew about this recent development days ago. And they got a super secret password good for $2 off each set they order. If you're not an Insider, now might be a good time to sign up. It's fun. It's free. It's wonderful.