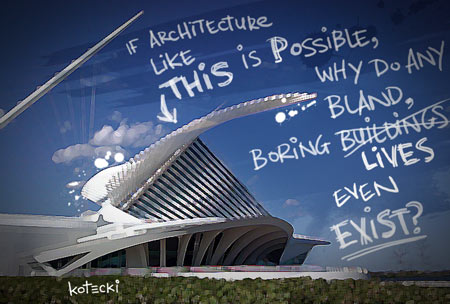 I spoke at a national conference in Milwaukee the other day. After the gig, Kim and I took a nice walk along Lake Michigan. Perched on the shore, like a regal, otherworldly vessel prepared to set sail on a grand adventure, is the Milwaukee Art Museum. I have always been awed by the grand majesty of this architectural gem.
It's breathtaking. Remarkable. Inspiring.
I couldn't help but think: if something like this is possible, why do boring, bland buildings even exist? And of course they don't just merely exist — they are the norm. Obviously, this is an extreme example of pretty remarkable architecture. Buildings like this are rare. But that's exactly my point. Why settle with something so average, boring, and unremarkable?
While in Walla Walla with my dad for another speaking gig, we had a chance to stroll Main Street. It was a refreshing blend of charm and character, mixed with cute restaurants and one-of-a-kind boutique stores. It had energy, historical significance, and it was clean. Even the places that housed your standard real estate and insurance businesses had a more distinct and charming look than those in most other towns. San Antonio has the famous River Walk, and other large metropolitan areas have similar features, but Walla Walla only has a population of about 30,000. If this city can create a vibrant, distinct downtown with culture and vitality, why don't they all?
If you're going to go through the trouble of creating something, be it a building or a business district, that is going to be around for fifty or a hundred or more years, isn't it worth the effort to make it truly awe-inspiring?
Now, straying from buildings and business districts for a bit, let's look at people and the lives they lead…
I know people who are living inspired, original, extraordinary lives, and I bet you probably do, too. I'm not just talking about the rich and famous, I'm talking about everyday people who, like the Milwaukee Art Museum, stand out in a sea of average. They are happy and optimistic. They ignore the rules that don't exist. They don't fit in anybody's box. To them, life is a grand adventure, not something to be muddled through in a constant state of live-for-the-weekend survival mode. In a word, they are remarkable.
The question is the same: If lives like this are possible, why would anyone settle for anything less?
And yet, from cubicle workers to corporate drones to desperate housewives, millions settle for boring, average, and unremarkable.
Why?
Being average is easy (everybody is doing it!). But you deserve better. I can assure you, lives that resemble the Milwaukee Art Museum are not reserved for a lucky, privileged few. It's a lie that you've probably been told so many times (by parents, teacher, friends, and the media), that you might believe it. But it just ain't true. God created you for greatness. But the choice, as always, is up to you.
Chances are good that you'll be around for anywhere from fifty to a hundred years. You only get one shot. Isn't it worth the effort to make your life truly awe-inspiring?
Don't settle for a boring, cookie cutter life. Build for yourself a soaring, inspiring, remarkable work of art.
Be you.
Like this article? Cool. Make sure you're subscribing to our RSS feed so you won't miss out on any future installments of similarly inspiring prose. And stuff.