Although we're living in times in which we're supposedly more "connected" than ever, the real question is whether or not were actually making any real connections. Let's face it, there's only so much conversation you can have via text message.
Is it any wonder that we have so many family and societal problems these days when we're spending so much time apart? Even when a family is together, they're really not. Road trips often find everyone plugged into their own iPod, video game, or portable DVD player. And it's not unusual for everybody to be watching television at once — but each from a separate room in the house. But let's say you can get your family to turn off the TV, unplug their iPods and give the video games a break…what do you actually talk about?
"How was school today?" gets old pretty fast.
If your family is used to being "together but not," striking up meaningful conversation can be awkward, uncomfortable, and fruitless. Fleeing back to the safe haven of "the way things were" is pretty tempting. But this awkward stage is only a temporary transition to forming a new — healthier — habit. Here are a few tips for taking the guesswork out of engagement and jumpstarting the conversation.
One of our favorite ways to get kids of all ages to talk about their day without having to ask the dreaded, "How was school today?" question is to play Two Truths and a Lie. On the way home from school or around the dinner table, have everyone share three things that happened that day. Two should be true and one should be false. Everyone else has to try and figure out which one is the lie. Kids love trying to stump their siblings and parents, and it's a somewhat sneaky way to learn more about what's important to your kids and what's going on in their lives.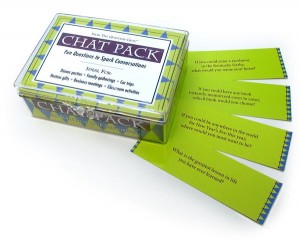 Another cool resource is something we just added to the Lemonade Stand: Chat Pack. It's a clear, compact case that contains 156 stylized cards, each one featuring a question that's guaranteed to get people talking like nothing else can. It's great entertainment for ages 6 to 106.
In our early days of schlepping greeting cards at trade shows, we met Bret and Paul, aka The Question Guys, and the creators of Chat Pack. They really have a heart for bringing people together and and resurrecting the long lost art of conversation. Here are some sample questions:
If you could have 50 pounds of anything other than money, what would you want most of all?
If you were on an African safari, what would you absolutely have to see for your trip to be complete?
If you had to change your first name, what would you choose as your new name?
What is something you really enjoy doing that is chore or a bore for many people?
If you could bring to life any fictional character from a book or movie, whom would you choose?
Not only does Chat Pack provide great sparks for starting family conversations in the car or around the dinner table, it's also ideal for dinner parties, business meetings, classroom activities, and hostess gifts. It's a great way to get people talking, bring them closer together, and create memories you'll remember forever.
Both Two Truths and a Lie and Chat Pack take the thinking out of starting conversations, which should be especially welcome if your previous efforts felt a lot like pulling teeth. And anything that can help foster real connections between family members gets a gold star in our book!
So how about you? What are your favorite "tricks" for getting your family talking?