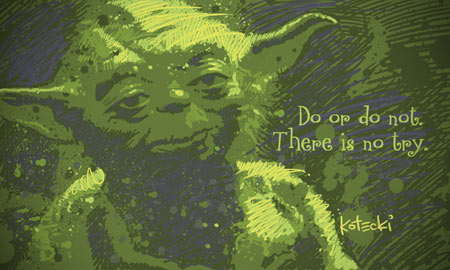 It was 1999, but I wasn't partying like Prince had promised. I had just graduated from college with a degree in art and found myself in the real world. Yikes.
I was back at home, living with my parents, and engaged to be married within a year. I was faced with trying to find a job and I had two choices: get a regular, "normal" job with benefits (that hopefully had something to do with art), or cast out on my own as a freelance illustrator. I think my parents were hoping for the former.
I requested a meeting, and I presented them with a short, three-page document I'd been working on. It had a list of pros and cons of both scenarios. It listed all the money I had to my name (a little over $6,000). It explained why I wanted to go with the freelance option and included a bullet list of action steps — all the things I could think of to get off to a good start.
In many ways, it was kind of a proposal. Not only did I need to know they believed in me and thought I had a good plan, but they also had to sign off on not charging me room and board for the year.
Somehow, they approved my plan. Perhaps they did really think it was a good one. Perhaps they didn't mind the thought of their firstborn staying in the nest for one more year. Perhaps they didn't have the heart to crush my optimism. Perhaps they didn't think I'd stick with it.
But the very first line on that old "business plan" — I still have it, by the way — was a line from the wise green sage from Star Wars:
"Do or do not. There is no try." — Yoda
Fast forward eleven years, and after building a six-figure business and creating a life Kim and I absolutely love, I think that Yoda's quote might well be the biggest reason for my success.
[Sidenote: Technically, God has been the biggest reason for my success. Without my faith — and more importantly, his grace — my life would be all kinds of messed up. But of all the things I did along the way, following Yoda's advice was probably the most crucial.]
When I was mulling over my options in my early twenties, I knew I had a big decision to make. One road was well paved, popular, and predictably comfortable. The other was overgrown, rocky, risky, and held no certainty of where it would lead. In my mind, if I were to take the more dangerous path, there could be no looking back. Trying was not an option. I knew that having a backup plan made it much more likely that it would eventually become THE plan. Or as Will Smith says, "There's no reason to have a Plan B. It distracts from Plan A." The only way to succeed was to not accept failure.
In order to really make your dream happen, you have to be willing to burn every bridge behind you. Nothing less will do.
You will fail on the way to your dream. And when you're in the middle of the failure, that fallback plan always looks pretty tempting.
Now, that doesn't mean you never change course. (Holy cow, have I changed courses!) When you start out, you don't know everything, you only know what you know. If you're doing life right, you should be learning new stuff all the time. Things you thought would be really cool sometimes turn out to be not so much when you finally get a taste of them. For instance, I originally thought I wanted to build this big business with lots of employees. But then I realized that I really hate managing. So now I'm focusing on building a company that's big on impact and small on overhead.
Technology changes the game, too. There weren't really blogs back in 1999. Now our entire several-thousand-page web site is run on blog software. (I heart WordPress!) Back then, there was no YouTube. No Facebook. No iPhones. No Elance. All have been game changers for us.
So yeah, you have to be willing to change and adjust and explore new paths when you're chasing a dream. As Rita Mae Brown wrote, "Insanity is doing the same thing over and over again but expecting different results."
But I think the big key for me has been that although I have changed courses many times, the thought of going back and getting a "regular" job stopped being an option the day I gave my parents that business plan. I was determined to succeed in my dream of working for myself and doing what I love, no matter what.
There was no "trying" involved.
Of course, that meant I'd have to work harder, persist longer, and fail more often than I ever thought I could.
And that's what has gotten me here.
So thanks Mom and Dad. And extra special thanks to you, Yoda.