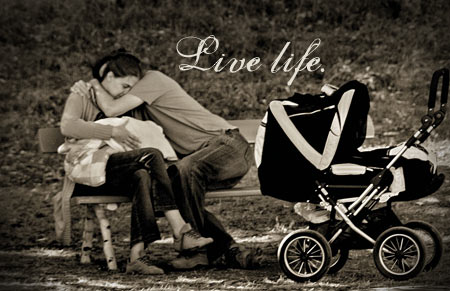 I saw someone get really bad news today.
It was upsetting to witness.
We were walking along the always interesting State Street, Madison's hot spot for fun and folly. This woman in her mid-20s was on her cell phone and it was obvious that she had just received news that would change her life. She stood there devastated, crying and hiding her face from the crowded street, shuddering into her boyfriend's arms. I couldn't help but wonder. What happened?
Did her mom die? Was her best friend in a terrible accident? Did she just find out she has a life-threatening illness? What?
Whatever it was — it was big.
I was immediately unsettled.
Less than 30 seconds after seeing her, we walked by a guy who had a shirt on that said "live life."
There — in those two simple words — was the instant answer to my feelings of helplessness and sadness.
Everyone gets at least one of those phone calls in their lifetime. It's just part of life. You can't dwell on if or when or what the call will reveal.
All you can do is LIVE LIFE.
The challenge is to do it as well as you can, while you can.