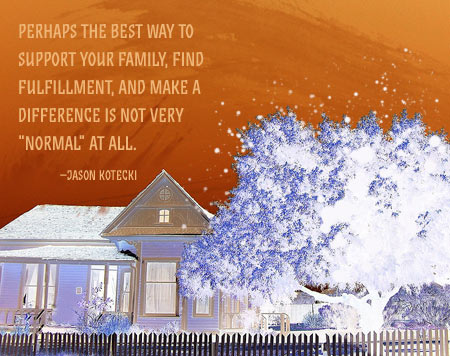 Being an entrepreneur has a lot of pros and cons.
Traditionally, there's the financial risk, long hours, and relative lack of security. (Although the way things are these days, the last two apply to most non-entrepreneurial jobs as well.)
But one of my favorite benefits of all is the freedom.
A few months ago, Kim and I went to a movie. During the middle of the day. A friend of ours had some free time and offered to watch Lucy. So we decided to catch a matinee followed by dinner. We drove to the cineplex, got our tickets, and meandered into the theater. The previews had already started, but we had no trouble finding perfect seats right in the middle, about halfway up. We enjoyed the show, a classic summer blockbuster.
As we were walking out after the movie, we were shocked to see the line that had formed to get into the next showing at 7:10. It went on and on, like a 500-foot snake stretching all the way down the hall to the concession stand.
Kim and I were relieved we had come when we did; had we tried for the later show, we never would have thought to come early. Even if we did get tickets, we'd probably get stuck sitting right near the screen and I'd be making a chiropractor appointment instead of writing this post.
It occurred to me that our good fortune was a direct result of being entrepreneurs. The movie we went to started at 4:40 p.m., twenty minutes before most people get off work from their "normal" jobs.
I was thankful that we didn't have a "normal" job.
A lot of the panic and pain from this recession we find ourselves in comes in waiting for the "normal" jobs that have been lost to return again. In the meantime, folks are becoming more discouraged, depressed, and cynical. The thing is, those "normal" jobs are not coming back. However, opportunities are all around us.
A bust in one industry leads to a boom in another.
In many ways, the Internet has leveled the playing field between the traditional giver of "normal" jobs and you. Besides the unprecedented access to information and ability to connect with anyone anywhere in the world, almost anything you'd ever need to start a business, including email, fax, telephone, videoconferencing, website hosting and design, business card printing, office productivity software, and publishing, manufacturing, and fulfillment services are now all either free or very, very cheap.
My youngest brother started an online business selling safety products and went from zero to profitable in the space of a year. (I know people who've been unemployed for longer than that!) But this was no get-rich quick scheme. He packaged his creative talents with the aforementioned free and cheap tools along with the knowledge of the industry he gained working a "normal" job, and is rolling along nicely.
He doesn't have a "normal" job any more, but he has a bright future and a ton of freedom.
Even in a so-called bad economy.
If you happen to be someone who recently lost their "normal" job or is unhappy with the current state of their "normal" job, I want to encourage you. Maybe you're not made for a "normal" job. Adjust your gaze. Instead of looking and hoping for a return of what was, look instead at what's possible. Perhaps the best way to support your family, find fulfillment, and make a difference is not very "normal" at all.
There are a lot of perks for those who decide to be abnormal.