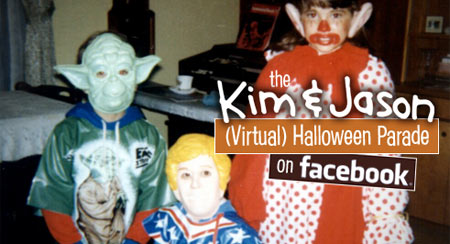 I've always loved the idea of Halloween parades. I say "the idea of" because when a was a wee child, I was terribly shy and deathly afraid of such inherently public events. But I did always enjoy seeing everyone else's costumes. (I just would've preferred to be invisible.)
Well, we decided it would be fun to combine the awesomeness of the Halloween parade with the amazing connecting power of the Internet. Hence the first ever Kim & Jason Virtual Halloween Parade!
We are hosting it on our Facebook page, and it's really easy to participate. Just post a photo of a great Halloween costume on our Wall. It could be a photo of YOU as a kid (or an adult), a picture of your own child, or even a themed group shot. On Halloween, we will award various prizes, and we're not talking about stale popcorn balls. We've got some really neat stuff to give away!
Besides the chance to win some sweet treats, I think we'll all enjoy checking out everyone else's costumes. Just like a Halloween parade!
Need some step by step guidance? Just follow these instructions:
Make sure the photo you want to share is on your computer.
Make sure you are logged in to Facebook and have "liked" Kim & Jason.
Go to the Kim & Jason page and click on the photo icon (circled below).

Click on "Upload a Photo from your drive" and then locate the photo on your computer.
Finally, add any comments you'd like to add in the comment box, then click "Share."
That's it! Deadline for entries is October 31, 2010. Join our Halloween Parade and share your photo today!
Become a fan of Kim & Jason on Facebook and get the first scoop on the crazy things we're up to as well as other behind-the-scenes treats. Kim & Jason Nation unite!