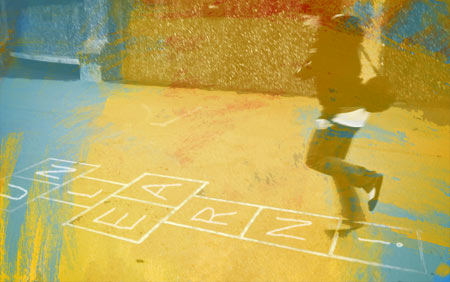 Life balance is something just about everyone struggles with. Even when things are going good, it's easy to feel guilty about not giving enough attention to something else. Of course, there are many reasons to explain our current dilemma. The always-on, constantly connected aspect of our culture certainly creates more noise and more opportunities to "do" instead of "be."
But I can't help but wonder if a lot of our problems come down to what we were taught in school.
In school, we become accustomed to believing that learning occurs only in certain places and during standardized periods of time.
In school, we focus a lot on irrelevant details (memorizing dates, learning cursive), and virtually ignore the important (how to manage money, how to think).
In school, after kindergarten, enthusiastic learning suddenly becomes joyless work, which we come to believe is our lot in life.
In school, we are conditioned to drudge through the day-to-day and live for the weekends and summer vacation.
In school, we work all day but still need to bring our work home in order to make a good grade.
Teachers have done an excellent job of teaching us some important things, but I fear the institution has taught us some bad ones as well.
It seems to me that a big part of designing the life you were meant to live is unlearning a lot of what you learned in school.