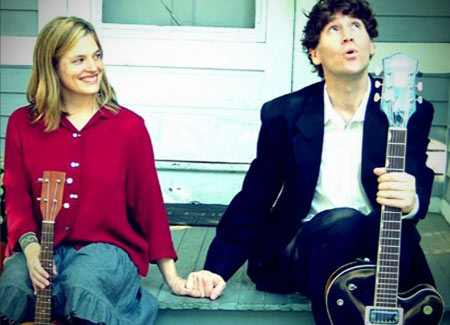 I love going to concerts. Always have. However, maybe it's my age, or maybe it's that I have enough "noise" in my life, but I've been gravitating to quieter, more acoustic-driven shows these days. Kim and I had the chance to see The Weepies when they came to Madison recently. The singing songwriting duo consists of Steve Tannen and Deb Talan, who also happen to be married with two children.
Cool Lifestyle Design Tidbit #1: They didn't tour for a whole two years after the birth of their first son. They went from a 180-show tour to no tour at all. What a great testament to their priorities, huh? Worth noting is that their decision to put family first didn't spell disaster for their career: their music was kept in the spotlight by dozens of uses in TV shows and films, allowing them to grow their fan base and focus on writing while they stayed home.
Cool Lifestyle Design Tidbit #2: Now that they are on their first tour since 2006, their two kids are in tow, making their tour bus a mobile kindergarten of sorts. This blows up the idea that you can't travel with kids, which is something Kim and I challenged when Lucy was born (she was on 34 flights before her first birthday and will be in Austin, Texas for her second.)
Seeing Deb and Steve live, amidst the self-deprecating storytelling and playful banter, it was clear just how happy and in love they seemed.
Naturally, Kim and I are always drawn to husband/wife business teams and seek to learn all we can from the ones we encounter. But sitting there listening to their unique and melodic harmonies, a lesson occurred to me that is applicable to any couple joined in matrimony, whether or not they are also joined in business.
Harmony is an important ingredient of a great marriage.
During some songs, Deb took the lead while Steve sang backup. On others, the roles were reversed. In both cases, the result was sublime.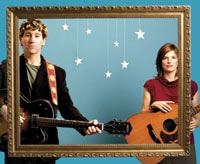 Similarly, a great marriage has two people working together in harmony. Maybe both people equally share income-generating roles and responsibilities around the home. Or perhaps one works as the sole breadwinner while the other works as the primary family manager. Such a balance requires a give and take. A marriage where both individuals are focused primarily on themselves and their "thing" results in the marital equivalent of a young musician practicing violin for the first time.
Not exactly Beethoven.
Each partner has a song they were meant to sing, a unique way to make their mark in the world. Sometimes, as in the case of me and Kim, that song is very similar. But most of the time, the songs are quite different. In any case, in a great marriage, both partners have to be willing to provide support as the backup singer once in a while so the other person can be out front, in the spotlight, doing their thing.
This includes doing things like temporarily taking on a bigger chunk of the household chores so the other person can study for tests required to earn a degree. Or staying up late to brainstorm ways to open up new doors of opportunity to unleash your partner's passion. Or simply cheering them on when things go great, and providing a shoulder to cry on when things go wrong. Sometimes this transition between roles happens within the course of a day, other times it happens much more slowly (like months or years if your spouse is going back to school.)
A marriage can't last when both people are trying to be lead singer at the same time. And marriages go off key when one person either hogs the spotlight or is reluctant to step in front once in a while.
In a marriage, as in music, singing harmony is a gift to your spouse.
It requires a selflessness that gives the song more beauty and impact than if it was just sung alone.
P.S. Here's a slice of The Weepies for your listening and viewing pleasure: