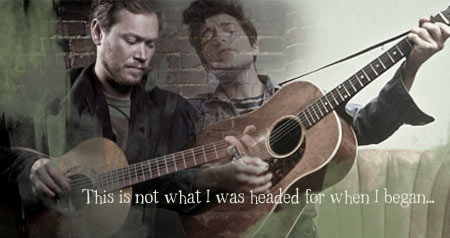 Welcome to the first in a new regular series highlighting the examples of regular people engaging in what we call small rebellions. They rally against the rules that don't exist, engaging in ruthless, senseless acts of silliness that undermine the slavery of Adultitis and its unadventurous version of adulthood. These rebels and their actions are small but mighty.
I noticed this one while reviewing Facebook statuses recently:
"Leaving in the morning so I turned down a free Bob Dylan ticket tonight to hang at home. This "Family Man" stuff is tough!"

– Facebook status from Andrew Peterson.
Andrew is practicing what he preaches (AND sings). Anyone who knows my musical interests knows that he's at the top of my list of favorite singer/songwriters and he travels the world singing my all-time favorite songs. With three kids and a beautiful wife at home in Nashville, he is mindful of the balance of it all — apparently so much so that he's turning down FREE Dylan tickets. Now if that's not a small rebellion, I don't know what is!
It's amazingly refreshing to hear this act of rebellion because his song, "Family Man" (which is what he's referring to in his status), passionately declares this bold commitment to his family. To see him making a hard decision like this just proves why I am such a big fan. What a man of integrity.
Way to go, Andrew!
http://www.youtube.com/watch?v=rAAYBdP08Y4
Family Man by Andrew Peterson
I am a family man
I traded in my mustang for a minivan
This is not what I was headed for when I began
This was not my plan
I am a family man
But everything I had to lose
Came back a thousand times in you
And you fill me up with love
Fill me up with love
And you help me stand
'cause I am a family man
And life is good
That's something I always knew
But I just never understood
If you'd asked me then you know I'd say I never would
Settle down in a neighborhood
I never thought I could
But I don't remember anymore
Who I even was before
You filled me up with love
Filled me up with love
And you help me stand
So come on with the thunder clouds
Let the cold wind rail against us, let the rain come down
We can build a roof above us with the love we've found
We can stand our ground
So let the rain come down
Because love binds up what breaks in two
So keep my heart so close to you
And I'll fill you up with love
Fill you up with love
And I'll help you stand
'Cause I am a family man
I'm saving my vacation time
For Disneyland
This is not what I was headed for when I began
This was not my plan
It's so much better than
What small rebellion have you witnessed or initiated recently?