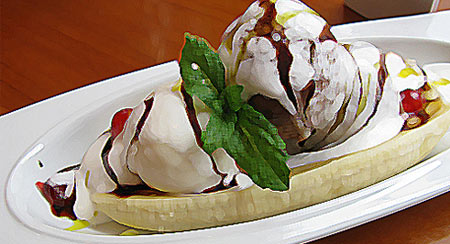 I met the coolest lady the other day. Jason had just finished speaking to a group of educators and this woman and her 17-year-old daughter came to our table for a visit. They both wore genuinely contagious smiles and I knew right away that I was going to enjoy this conversation. In a crowd of stressed-out professionals, they had a MUCH different vibe. They came to share stories — things they have done over the years to live this lifestyle that Jason had just spent an hour talking about.
One of the stories warmed my heart instantly. The woman explained that there was a time years ago when her family was needing a bit of a pick-me-up, a change of pace. In an effort to mix things up a bit, she decided that for dinner, she would surprise her family by making banana splits as the main course.
Her children were in disbelief as they arrived at the table to find magnificent desserts — FOR DINNER!
"Why not?" she joked. "Every once in a while you have to just break the rules and have some fun. It's good for everyone involved. Cooking sure was easy that night!"
Another example of a small rebellion with very BIG results.
I could see the residual result right there in front of me… the 17-year-old daughter who was beaming and interrupting her mom with excitement to help retell the story. Did I mention she's a high schooler? Did I mention she decided to spend the day with her mom at this conference even though she's old enough to stay home and Facebook with her friends all day? I don't think it's a coincidence that this young lady sure seemed a lot more mature than a junior in high school.
We laughed about how you really couldn't feel too guilty about banana splits for dinner because all in all it isn't even that outlandishly irresponsible (with to neglecting your children's nutritional needs with dessert for dinner). They are actually quite healthy. You've got the banana (fruit), ice cream (dairy), pineapple and strawberries (more fruit), nuts (protein) and of course that classic little cherry on top (yet another fruit).
So, for all of you who are strict about the nutrition consumed on your watch, here's a fun excuse to let your hair down and create a memory that your children will be beaming about for years to come. Someday they may just be interrupting you to retell the story of your banana split dinner to someone you just met.
And for those of you without kiddos or grandkids, why not invite friends over for dinner and surprise them with the biggest, most glorious looking banana splits they've ever seen!