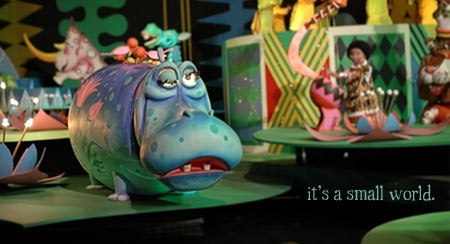 I was in Disney World a few weeks ago, standing in line for a ride with Kim and Lucy. We were in Clearwater for a speaking program, and decided to take a day to drive over to Orlando to visit "Snow White's House." Fortunately, Snow was home, and was generous enough to take photos with Lucy. I marveled at how much more three-dimensional she looks in person.
And so I was in line, holding Lucy, who was holding a stuffed Snow White doll, when a familiar word caught my ear.
"Are you guys here taking care of your Adultitis?"
I turned around to see a guy about my age, who looked extremely familiar, but I couldn't quite place him.
"I'm Steve. I saw you last year when you spoke to our ACEC group."
Yep, that was it. Steve was there with his family and had recognized my Red Rover t-shirt. Although a row apart and separated by the steel bars used to corral people onto the ride, we chatted for a few minutes, and he shared how much he appreciated my talk and a few of the things he had done differently since hearing it. Very cool.
I marveled at the odds of my family and Steve's family — both from Wisconsin — ending up at the Magic Kingdom hundreds of miles away on the exact same day and deciding to go on the exact same ride at the exact same time.
Amazing.
And then, as luck would have it, because of how the people ahead of us were grouped, we got ushered to the front of the line and ended up sitting directly behind Steve and his family on the ride.
Now this is just ridiculous, I thought, smiling.
And then Kim and I smiled extra wide when we realized what ride we were currently on:
If you don't believe me, I don't blame you. I can barely believe it myself.
Perhaps this was one big completely random coincidence. A cosmic accident of chance. But I happen to put a lot of stock in the phrase that "coincidences are God's way of remaining anonymous." I remember the amazing story of the guy who discovered that he and his wife had been photographed together at Disney World years before they even met. Pretty crazy stuff.
In this case, I don't know what the point of it all was, if there was one. Perhaps the chance meeting reinforced the message of my program for Steve. I know that it encouraged me that my work is making an impact on others. Other than that, it may have been nothing more than God having fun.
He's not above having fun, you know.
And that's what Disney World is all about, after all.