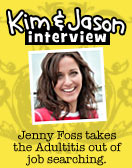 Most people wouldn't put "job searching" and "fun" in the same sentence (although I just did. Huzzah!) Somehow, Jenny Foss, aka "Job Jenny," has a knack for not only making your job search more fun, but way more effective as well. She can help you not just find A job, but THE job.
Her background running a nationally recognized, boutique-style recruiting agency has given her a unique perspective on this enormously crappy job market. The way she describes it,
"Everyone's trying to cram through the front door, using methods of job search that just don't work very well anymore. (Like Monster.com and counting on recruiters to find you something cool.) In reality? You'll get noticed a heck of a lot faster today if you say "screw that front door," and instead, head around to the side window, flip open a step ladder, climb up and hoist yourself through. I will teach you how to cook up a plan that gets you through the side window."
We've admired her blog at JobJenny.com for a while now. It's hard not to fall in love with her quirky style that's both irreverent and sincerely sweet. After having a chance to interview her, we left no less impressed.
In our chat, we were able to go over some big job search do's and don'ts, glean some great advice for anyone looking for what's next career-wise, uncover some book recommendations, and discuss her own thrilling transformation from the "the safe girl from suburbia" to your job search BFF.
Run Time: 27 minutes, 23 seconds
Download MP3 (26.3 MB)
If you dig this interview and are in the midst of your own job search, you'd be wise to investigate her killer ebook, To Whom It May Concern: Or, How to Stop Sucking at Your Job Search (affiliate link.)
[Update: Use the coupon code KIMJASON50 to get 50% off the ebook through Friday, May 13, 2011.]
If your job search is stretching on (or you're flat-out paralyzed) because you're not quite sure how to pull this thing off, you really have just two options: Keep doing what you're doing, or find a better way.
Jenny's got a better way. Ready when you are.