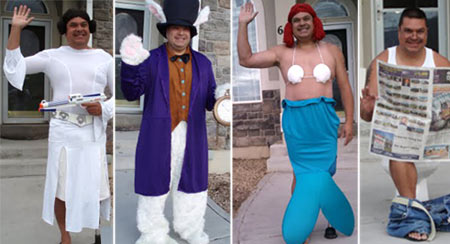 Parents can be so lame. Hopelessly out of touch. It's as if they can't help themselves from embarrassing their children.
And then some parents go our of their way to do it.
It started very simply. Since the school bus would be coming down their street for the first time ever, Rochelle Price suggested that she and her husband Dale go out and wave at her fifteen-year-old son Rain as he went to school. "Maybe we can embarrass him," she said.
Later that day, Dale overheard his son talking to her, "Mom, don't let Dad go out there again."
And the challenge was on.
The next day, Dale came out with a Chargers jersey and helmet.
The day after that, he was Anakin Skywalker.
And every school day since then, Dale Price has been out in costume — a different one every day — waving at his son's school bus. Every costume has been chronicled on the website www.waveatthebus.blogspot.com
Slowly but surely, Rain warmed up to the spectacle of his father in goofy getups. "The first day of high school I have my dad waving at the bus," he said. "It was really embarrassing. But the last couple of months it has turned into more entertainment. Everybody else on the bus learned to like it a lot sooner than I did. It wasn't their dad dressing up like a fool."
An article from The Daily Herald tells the story, including some self-imposed costume rules — Dale only has about four minutes to dress up in order to keep the costume a secret from Rain — but my favorite quote comes from Dale's wife:
"Life is hard," Rochelle said. "It is fun to be able to start it with a laugh every day. That is why I married him. He makes me laugh."
Life is hard. Parenting, too. But a sense of humor and a small rebellion now and then can help you weather the storms and even create some awesome memories as well. I know, this might seem a little bit more than a "small" rebellion to you. That's because it's actually three small rebellions in one:
1) People of all ages love dressing up in costume. On Halloween. But who does it every morning? For no other reason than to have some fun and embarrass their kid?
2) Dale went ridiculously out of his way to embarrass his son. Sure, this is hard for parents NOT to do, but I know few who would go this far and do it so publicly.
3) Finally Dale had the cojones to outwardly share his love for his son. Most guys are too "manly" for that. A simple wave and a daily commitment says more than words ever could.
I hope that I'm able to embarrass my kids this well when they're teenagers. (I have a feeling I won't have to try that hard.)
Because when it comes to "embarrassment" on a level like this, outwardly, a teenager is going to make all kinds of noise about how uncool their parent is. But on the inside, they secretly know and appreciate just how lucky they are.
How did your parents go out of their way to embarrass you? If you have kids of your own, how have you managed to embarrass your kids?