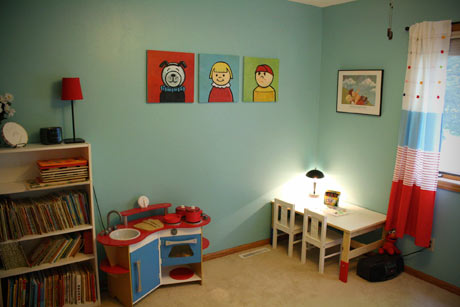 This summer is one of big transitions in our household. With the new baby coming in December and a slight reprieve from a busy speaking schedule, we've been working like mad to get a lot of projects checked off the holy to-do list.
One of the big steps was transitioning Lucy to a "big girl bed" in her new "big girl room." (Next up, potty training — heaven help us!) This required purchasing a "big girl mattress" and some redecorating. It went much more smoothly than I anticipated, and the items we'd collected over the last year or so really tied together well.
Among the highlights is the focal point of the room, a series of original paintings I did featuring the beloved Fisher Price Little People. Kim rescued them from her basement a while back, and they've become one of Lucy's favorite toys. I had to share!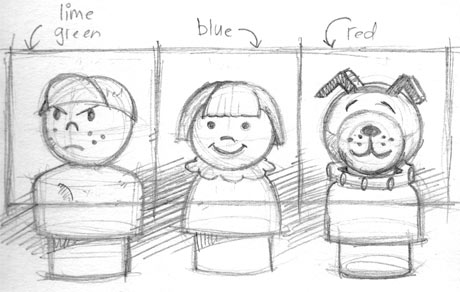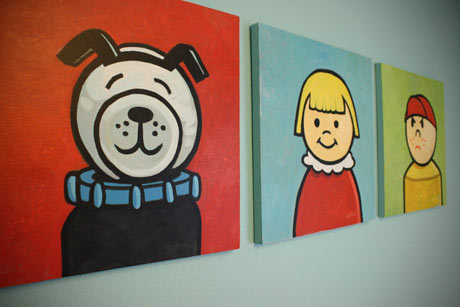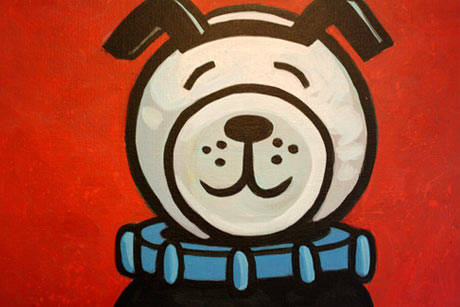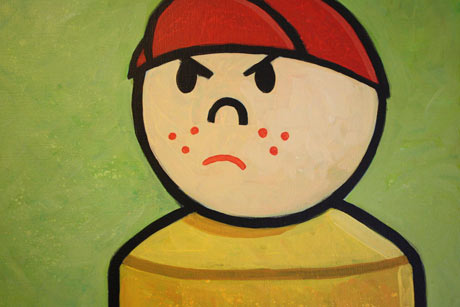 It's well-known in our family that I am not the most — ahem — handy person around. Which is especially embarrassing since my Dad is a carpenter by trade and a magnificent woodworker. But it is kind of neat to be able to create something unique like this. Probably the cheapest thing in the room if you consider money spent, but certainly the most priceless. I couldn't even guess what something like this might cost.
Perhaps I should take it out of Lucy's allowance :)
There are still a few tweaks to be made to the room (which is why there's only a photo of one wall.) If you have children, I'd love to hear what unique touches you've done to add some whimsy and originality to your kids' rooms!