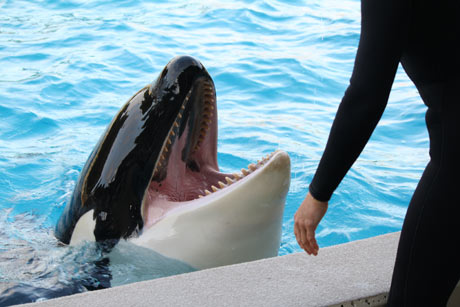 A few weeks ago I shared my recently written "Stop Doing List", inspired by Danielle LaPorte. Among the 30 things I hope to stop, I was able to tackle one this week head on and it felt REALLY good. It felt so good, in fact, that any Adultitis that was lingering nearby (which is usually inevitable when you're out of your routine) got scared and started running for the hills.
Adios Adultitis!
We were in sunny Southern California for a speaking gig and we tacked on a few extra days for some fun to take Lucy to the San Diego Zoo and Sea World. Sea World is set up very similarly to the Disney parks, in that whenever you exit an exhibit/attraction/ride, you are forced to walk through the overpriced gift shop filled to the brim with goodies galore. It's tempting, especially with a little one. The cuddly penguin stuffed animals, the adorable Shamu floppy fishing hat — they had some neat stuff. Then it hit me… STUFF. We do NOT need more STUFF. The line from my Stop Doing List surfaced to my consciousness…
"Instead of 'stuff' acquire memories and experiences."
Now backing up, I should mention that Jason LOVES animals of all kinds. I think it has to do with his artistic perspective and background. He's in awe of the amazing patterns and creative features and how they were designed so purposefully. So, as you would guess, he is pretty childlike crazy about Shamu. When we arrived, we saw that Sea World offers an experience where you can dine with Shamu.
You make reservations to have dinner at a restaurant that is attached to his tank, then throughout the dinner you can watch him up close (along with about 100 other people) and enjoy a more personal connection with this fabulous creature.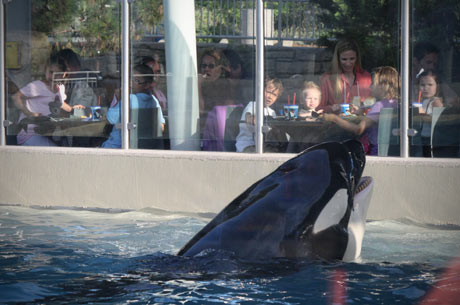 YES, PLEASE!
We decided that this would replace any souvenirs we would carry home with us. Jason and I were both thrilled about the opportunity and found ourselves enjoying the anticipation of our 6 o'clock date with Shamu throughout the entire day.
After it was all said and done, we were THRILLED with how everything unfolded and the amazing memories that were made. We had arguably the best seat in the place, right in the middle next to the glass. The three of us were in awe. And to our surprise and delight, the trainers were there to guide Shamu in his behaviors, so we got to see tricks and learn all about this fabulous creature in a setting that made it feel like we were among friends. The vibe in the place was giddy and childlike, everyone was thrilled to be there and savoring every second. Quite the experience!
I was also proud of Jason. He did a nice job of living in the moment and not behind the viewfinder of his camera, which was tempting with such great shots every second… and the camera gods blessed him for it. With only taking less than a dozen pics, he came away with a few money shots seen here that will serve as treasured reminders of that fun evening we spent with Shamu in San Diego.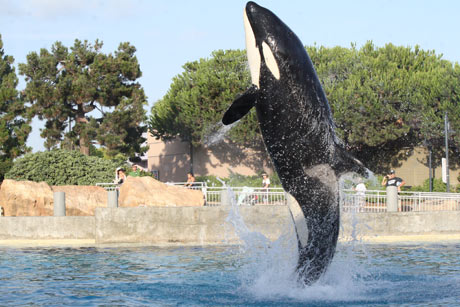 So, lesson learned: when something is written down that you want to stop doing and the opportunity arises to tackle it, it's super rewarding and feels great to actually follow-through on the promises you've made with yourself.
Have you written your Stop Doing List yet?
If not, what are you waiting for?!