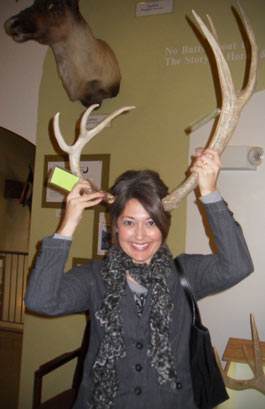 Kim & Jason Nation is a playful group of rebels who share a joyful, indomitable childlike spirit and are not afraid to let that spirit come out to play! They're united by a common goal of fighting Adultitis and the doo-doo heads who embrace its ideals. Quite frankly, they're pretty much the coolest people on the planet. Here's one right now…
• My hometown is… Sandwich, IL—Definitely an anti-adultitis name! Telling people I grew up in Sandwich always gets a laugh.
• My biggest dream…Buying the farm down the road from where I grew up and turn it into a field trip destination for kids—a place they can swing from the hayloft, chase the pigs, and smell the dirt (without their parents worrying about them).
• My inspiration… My mom! When she dives into a project—she's not afraid to make a mess!!
• When I was a kid, I… caught fireflies in a jar, mowed over my mom's tree, rescued my cat after it accidentally got its back leg chopped off, crafted macramé key chains to sell, owned a BB gun (and didn't shoot my eye out), mistook a skunk for my cat (it was eating out of the cat bowl), tried to get disoriented bats out of the house with a butterfly net, snuck cookie dough every chance I got.
• One way I stay childlike is… Karate. I know this might sound adult-like. However, our karate uniforms look like pajamas for goodness sake! AND I like to think of it as: I'm the eccentric mom who taught TV's Green Hornet everything he knows! Kiai!
• What I know so far… Hauling booty on your bike through corn rows during a humid late-summer day will not only stir up the skunks, but will also scratch the heck out of your face and arms.
• My favorite things about "Kim & Jason" is… They remind me I don't have to be a stringent role model — so go ahead and laugh at a fart. Then rate the "smelliness" of it.
We saved a space just for YOU in Kim & Jason Nation — join the small rebellion and sign up to become a K&J Insider today!