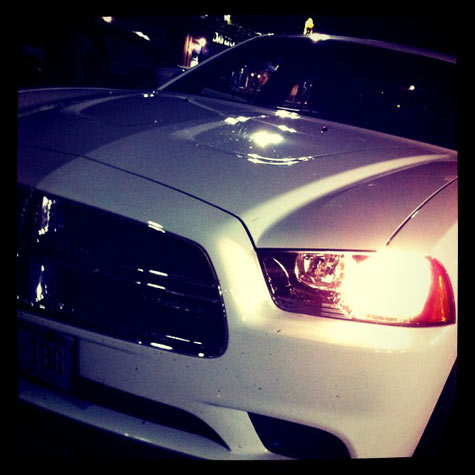 This is the rental car they gave me for a recent run of speaking gigs in Minnesota.
A 2011 Dodge Freaking Charger.
It makes me feel like I'm driving the Batmobile.
Yes, I know it's white. But I'm talking about the special Batmobile that Batman takes to weddings.
Delivering a kick-butt speech and driving to the next gig on a beautiful day with the windows down and the tunes cranked is now my favorite thing to do in the whole wide world.
Kim and I are thisclose to getting something like this for our next family car.
Yes, that's what I said.
It's got a roomy interior, a huge trunk, and it's ridiculously unconventional (as far as "family sedans" go), all of which are quite appealing. (It even comes in toxic orange!) And believe it or not, Kim is actually probably more willing to pull the trigger than me.
We'll see. You never know.
The only certain thing is that a minivan is completely out of the question. On that, Kim, Batman, and I all agree.
[ 2011 Dodge Charger shot with my iPhone using the Instagram app ]