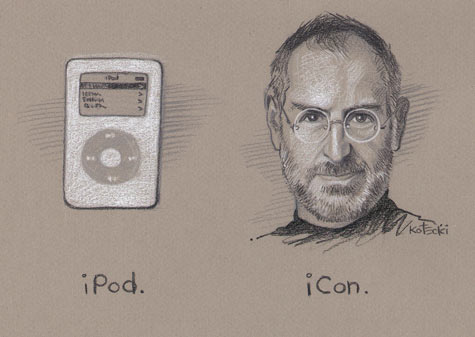 Who said computers were too complicated for regular folks?
Who said an electronic device can't be powerful and beautiful?
Who said no one would pay for digital music?
Who said Grandma couldn't make her own movies?
Who said a single person couldn't change the world?
Not Steve Jobs. And that's why I admired him. He was a quintessential breaker of the rules that don't exist. He started small rebellions that became huge. He taught us to think different, as this classic, never-before-aired ad reminds us:
In his inspiring 2005 commencement address at Stanford, Steve said this:
No one wants to die. Even people who want to go to heaven don't want to die to get there. And yet death is the destination we all share. No one has ever escaped it. And that is as it should be, because Death is very likely the single best invention of Life. It is Life's change agent. It clears out the old to make way for the new. Right now the new is you, but someday not too long from now, you will gradually become the old and be cleared away. Sorry to be so dramatic, but it is quite true.

Your time is limited, so don't waste it living someone else's life. Don't be trapped by dogma — which is living with the results of other people's thinking. Don't let the noise of others' opinions drown out your own inner voice. And most important, have the courage to follow your heart and intuition. They somehow already know what you truly want to become. Everything else is secondary.
If you haven't seen it — or even if you have — it's definitely worth the 14 minutes to watch the whole address:
Steve Jobs is one of my heroes. Although it may sound melodramatic to some, it's absolutely true: My life today is better because Steve Jobs lived.
He gets a lot of attention for his brilliant ideas, fiery leadership style and and sexy products, but what made Steve Jobs insanely great was that he empowered other people to do insanely great things.
Shouldn't we be about doing the same thing?
[ Artwork: Colored pencil on grey paper. 9.5 x 12 inches. ]