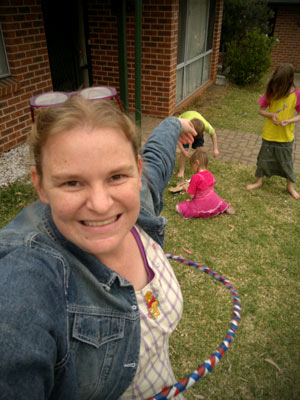 Kim & Jason Nation is a playful group of rebels who share a joyful, indomitable childlike spirit and are not afraid to let that spirit come out to play! They're united by a common goal of fighting Adultitis and the doo-doo heads who embrace its ideals. Quite frankly, they're pretty much the coolest people on the planet. Here's one right now…
• My hometown is… Penrith, NSW, Australia.
• My biggest dream…is to have a house brimming full with children and a big backyard (with chooks) to let them play in. Lots of kids means lots of fun and games.
• My inspiration… books. I'm an avid reader although these days I need to intentionally carve out time for reading.
• When I was a kid, I… played make believe all the time. We used to make up potions in the backyard with sand and leaves and dirt and stuff. Or hide in the cubby house and pretend there was a cyclone coming. Or make a huge mountain out of sand and then slowly and carefully dig tunnels through it. Or, as I got older, borrowing ten books from the library and spending the next 2-3 days reading them all and having nothing to read until we went to the library again.
• My favorite childhood toy was… Our dress up box, filled with cast offs of Mum and Dad's clothes (no fancy costumes or specially bought "dress up" clothes).
• One way I stay childlike is… have lots of children – four and hoping for more!
• What I know so far… that I don't know much at all, and that without God I would be nothing.
• My favorite things about "Kim & Jason" is… that they remind me, regularly, to have fun and that life isn't as serious as adults make it out to be.
We saved a space just for YOU in Kim & Jason Nation — join the small rebellion and sign up to become a K&J Insider today!