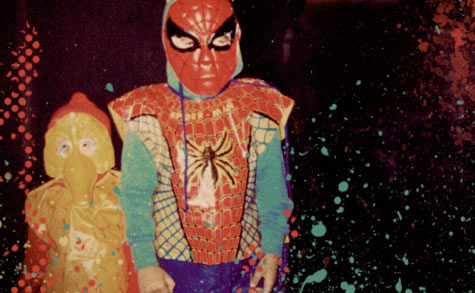 My favorite childhood Halloween costume may have been the Spiderman one. Granted, it was nowhere near as cool as the versions kids have the privilege of wearing today, what with the form-fitting spandex, built-in muscles and mask that covers the whole head. (In my dreams!)
Mine was made of the loose-flowing, ill-fitting cheap plastic that resembled Spiderman's pajamas way more than proper crime-fighting gear. The mask, too, was plastic, and only covered half of my head, held there by a flimsy rubber band. And the muscles were my own: 100% natural and undetectable to the naked eye.
But I'm not bitter.
The weird thing is that even though my costume was severely lacking in authenticity, it never really mattered. As soon as I slipped that mask over my face, I was no longer a skinny shy kid named Jason. I was Spiderman. Brave, heroic, and thanks to all the plastic, uncomfortably sweaty.
Although Adultitis still tries to meddle with and ruin Halloween — having to wear jackets over costumes, anyone? — it makes me happy to know that dressing up in a costume is not the exclusive domain of childhood.
People of all ages love dressing up for Halloween.
But why?
It's fun, of course. But it also allows us to be someone (or something) else for a little bit.
For a single night you can be a superhero, a wizard, a bounty hunter, or the undead…and tomorrow you can go back to your comfortable life.
We're allowed to "try on change" without any permanent ill-effects.
We crave the end results that come with a massive change, but can become overwhelmed and discouraged by the sheer massiveness of it. Why bother with something that seems impossible? And yet growth, improvement, and a better life can never happen without change.
But what if you incorporated this spirit of Halloween all year long? What if you made "trying on change" a regular practice?
Instead of committing to running a full-blown marathon, what if you just took the stairs instead of the elevator at work?
Instead of buying an expensive camera, why not borrow a friend's, or shoot 10 photos a day with your little point-and-shoot?
Instead of quitting your job to follow your passion, what if you spent a half hour a day for a month working on building a little side business?
Instead of throwing your TV out the window so you can write that 500-page bestselling novel, what if you swapped a half-hour of TV watching for writing time?
Instead of becoming a hardcore minimalist, what if you threw out or gave away one thing a day for two weeks?
Instead of eliminating all sugar from your diet, what if you just started with one less can of soda a day?
Instead of pledging to be the best spouse that ever lived, what if, before you went to bed, you just thanked your significant other for something specific he or she had done that day?
The nice thing about "trying on" change like this is that if you don't like it, you can go back to your comfortable life soon enough.
You never know, though. It might just stick, and before you know it, you'll end up doing things that once seemed downright superheroic.