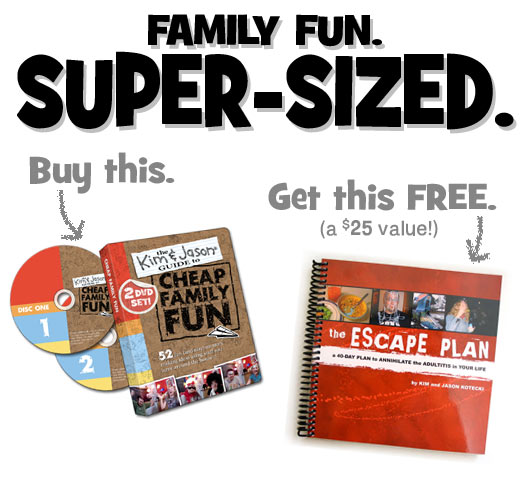 If your family is already having more fun than you can handle, please disregard this message.
But if Adultitis has become a permanent (and unwelcome) member of your family, you can't afford to miss this offer.
Think about your last week – how much of it was so memorable you'll still be talking about it ten years from now?
Don't let Adultitis and the busyness it brings with it trick you into missing out on the best parts of life! The Kim & Jason Guide to Cheap Family Fun has 52 short and entertaining videos that'll give you a year's worth of inexpensive and easy ideas for having big fun. The Escape Plan is jammed with 40 challenges and hundreds of awesome ideas guaranteed to annihilate Adultitis.
For a limited time, if you buy the Cheap Family Fun DVD set, you get The Escape Plan book for FREE – a $25 savings! (And yes, if you buy 2 DVD sets, you get 2 books free.) No coupon codes needed – just add the items to your shopping cart and the discount happens automatically.
It's the offer – and gift idea – that Adultitis doesn't want you to know about.