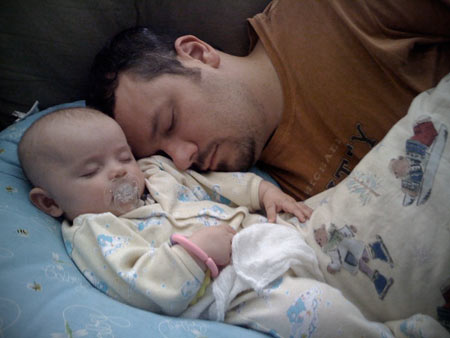 June 5, 2009: My best friend's sister just had a baby. We've been hearing a lot of stories about the new parents, including the standard late nights and issues with feeding and pumping. It seems like all babies have some sort of dilemma to deal with at the beginning, something that usually overly concerns the parents, especially new ones. The "issue" varies from kid to kid, but the fact that there usually IS one is normal.
Anyway, hearing their stories took me back to our first days. I couldn't believe how much I'd already forgotten about that first month. How hard it was. And nerve-wracking. And tiring. Believe me, a six-month-old is no walk in the park, but I'd take it over a six-day-old any time (as far as the work part is concerned).
I suppose the forgetfulness is God's little way of keeping the human race going. It's hard to imagine anyone putting themselves though the trauma of labor and the first few weeks again if it weren't for the memory fading a bit. Happily, the good memories remain, and the unpleasant ones lessen in their intensity.
But the real point I want to make, especially if you are a new parent-to-be or a freshly minted mom or dad going through this period we call boot camp, is this: There is a light at the end of the tunnel. It gets better. And easier. I know, it's a small consolation if you're smack dab in the middle of it, but it's true.
The work is hard, but the rewards are great. I already miss the early days when Lucy was that small – sweet and helpless and awesomely new.
I miss those days enough that I'm beginning to consider the prospect of going through it again. Eventually.
* * * * *
This post is an excerpt from our new book, Just You Wait, a collection of insightful, humorous, and totally unvarnished journal entries detailing our adventures in fighting Adultitis as first-time parents. Parents of all sorts – and especially first-timers – will enjoy the honest look at the roller coaster ride that is parenting. Buy it now!