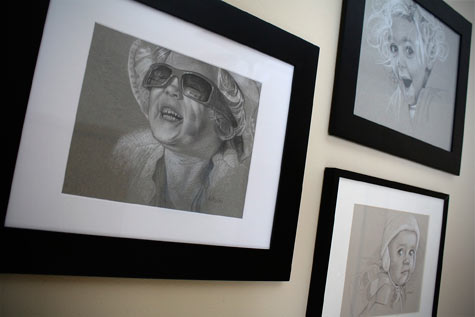 A few years ago, I drew a portrait of Lucy for Kim as a Christmas present. She loved it.
I'm not sure I truly thought through the ramifications of that gift. After all, there was no way I could NOT do another one the following year. And now that we've had another kid, I just doubled my workload!
If nothing else, this all but assures that we won't be making a run at the Duggars in terms of family size anytime soon.
So, after running out of space in the kitchen, I hung the newest drawing along with the previous two on a wall in our bedroom. It allows us room to grow — at least for a little while.
On a related note, my 9-year-old niece Kerrigan is a budding artist and big Star Wars fan. After she admired the S'More Trooper piece I did last fall, I surprised her with a similar version as a Christmas gift. I was a little worried that she'd be disappointed, wishing we'd have gotten her some new video game instead. But when she opened the gift, her eyes lit up and I knew it was a hit.
These instances remind me that in this age of mass-production and materialism, handmade things are still the best. Amazon.com and gift card kiosks have made gift-giving easier, but also less meaningful. It takes time to create something the old-fashioned way, and time is the one thing that no one has in abundance. When someone gives you something handmade, you automatically know they think you're the cat's pajamas.
Adultitis-Fighting Tip: This week, why not make something for someone who means a lot to you? I know, we just celebrated Christmas, but that's what will make the gift even more special: it's not tied to an obligation. And don't give me the business about how your art skills stink. Perhaps you can bake some cookies, build a birdhouse, knit a scarf, create a flower arrangement, cook a casserole, craft a scrapbook page, fashion a greeting card made with glitter glue, make a paper toy, or steal an idea from Joel.
What's the coolest thing anybody ever made for you?
Like this post? Sign up to receive our free weekly newsletter to get regular reminders and tips for stressing less and having more fun. It's a well-deserved jolt of happiness for your inbox.