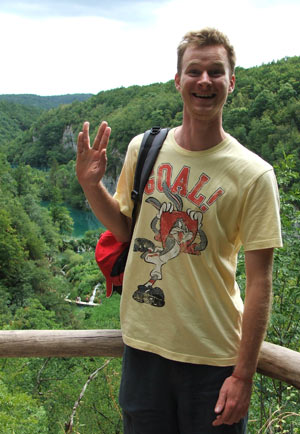 Kim & Jason Nation is a playful group of rebels who share a joyful, indomitable childlike spirit and are not afraid to let that spirit come out to play! They're united by a common goal of fighting Adultitis and the doo-doo heads who embrace its ideals. Quite frankly, they're pretty much the coolest people on the planet. Here's one right now…
• My hometown is… Bratislava /Slovakia.
• My biggest dream…is to have a muscle car – Chevy or Ford.
• My inspiration… is my girlfriend and her dreams.
• When I was a kid, I…wanted to be a scuba diver and I was trying to make oxygen tanks from plactic bottles from vinegar.
• My favorite childhood toy was…anything I could find before my parents gave it to me. That was before Xmas or Birthday. In other instances I messed around with tools: screwdrivers, hammers, knives or axes. Oh! And matches! FYI: I have all fingers in place as you can see on the picture above :-)
• One way I stay childlike is…I take my bike out in heavy rain and I come back soaked and dirty just like when I was kid.
• What I know so far…is that I was born child, I live like a child and I die like a child…
• My favorite things about "Kim & Jason" is… I feel that they do what they believe is the right thing to do. They make me think about little things which make a difference. Thanks guys!
We saved a space just for YOU in Kim & Jason Nation — join the small rebellion and sign up to become a K&J Insider today!