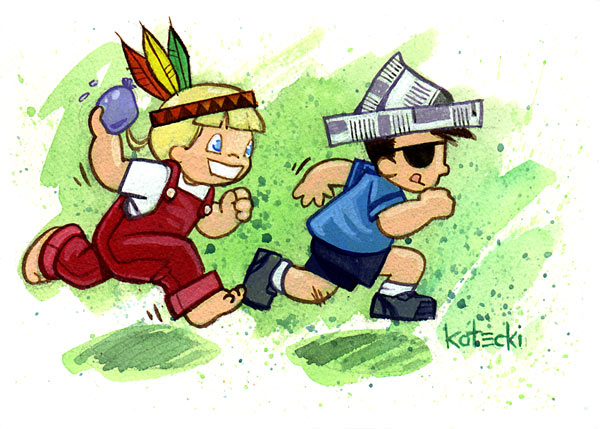 We're often told that the secret to happiness is to take the road less traveled. Oftentimes, it certainly seems like there must be a better way to do things than our current approach. But the problem is that the "beaten" path is so well-paved, well-marked and well-lit, that frankly, it can be hard to imagine that there could even be another way, let alone a better one.
One small example is the arena of organized sports. My kids are too young to be involved in things like baseball or soccer, but I hear stories of peers who are looking down the barrel of a summer in which the majority of weeknights and weekends will be spent at the ball field. For some families, this is a cause for joy, but for most, it brings a feeling of dread. Apparently, it's a necessary evil required to make sure our children are well-adjusted, socially competent and attractive to institutions of higher learning.
And besides, everyone's doing it.
I myself spent many summer nights of my youth at the ball diamond, as did my brothers and my parents. It was a good experience for me and I grew a lot through it. But I have to be honest: the idea of spending the bulk of my future summer nights at the sports field is as appealing as a Spam sandwich. Especially because in the years that have past since my ball playing days, the games and practices have gotten more competitive and more numerous, as if we are training children to become pros. I do want my kids to learn how to compete, get some exercise, and have fun, but the cost that comes with the "beaten path" seems too high. I fear the busyness will exhaust and strain our entire family. Is there another way?
It seems that there may be, thanks to an email I got last fall from a guy named Jay. He wrote to tell me about "Dirt League":
It all started when Ted, the Dad of of three kids ages 9, 8 and 6 found it overwhelming — if not impossible — to keep up with all the scheduling of t-ball and the other programs the kids wanted to sign up for. He decided summer should be FUN, not scheduling. He rapidly found many like-minded parents and decided we should get together for some good old fashioned pick-up games just like when we were kids. We decided to get together at St. Dennis field in Madison every Thursday night. Everyone's welcome: parents, grandparents, kids of all ages. The parents respect the kids' size, the kids respect the parents age and slowness;) If someone drives by looking, we wave them in and invite them to play.

We played baseball, soccer, gatorball (also called speedball, a combination of football, soccer, and basketball), and quidditch with the help of a hula hoop and some duct tape. We also played kickball in 90-degree weather, in which you had to go through the slip-n-slide from third to home. We make up a lot of little twists.

The rules are very loosely interpreted. We all bring something to pass to eat and drink or just order 10 pizzas. Everyone comes and goes in and out of the game as they please. Sometimes it ends up mostly parents out on the field and the kids watching us and laughing. The one major rule is: No electronic devices!

On any given night we had anywhere from 6 to 10 families. It just kept growing. All of us agree it was the awesomest part of our summer! The funniest thing is that now we tell people "Is that on a Thursday night? Can't make it. Got Dirt League." We also call ourselves The Dirtballs now ;)
Holy. Freaking. Cow.
Now THIS is how I'd like to spend my summers with my kids. It's truly a small rebellion of epic proportions.
I love how all the ages are included, as normally, kids have their own leagues and adults have theirs. To me, this makes the experience much more rich. And I also love the little twists they add, which reminds me of Calvinball from the comic strip Calvin & Hobbes.
When my kids get a bit older, I'm going to look into joining this Dirt League or starting one of my own. Perhaps this is the summer for you to do the same.
It takes a brave person to break free from the interstate and head down a road less travelled.
But it's often the roads less traveled that end up being way more fun.