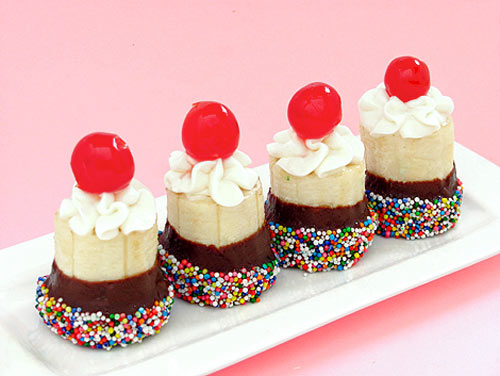 One of the greatest inventions of the past few years is the Dairy Queen Mini Blizzard. I love Blizzards, and am rarely able to contain myself if I spot a Dairy Queen logo while driving home from a speaking gig. (My favorites are the Reese's Peanut Butter Cup ones.) I love that the mini size allows me to assuage the craving while staving off the shame spiral that comes from inhaling a bigger size.
The point of this post is to praise tiny portions of dessert. I have found that it doesn't take a lot to satisfy my sweet tooth. If have have a taste for some chocolate, peanut butter, and ice cream, I don't need it served up in a ten-gallon bucket.
Seriously, who ever buys the large? If that isn't a cry for help, I don't know what is.
In the ice cream treat world, banana splits are notorious for being belt-busting behemoths. But these little gems from Bakers Royale are a great way to get your fix without feeling *too* guilty. There's even some ice cream tucked inside the little bananas! Here are some notes for making your own:
• Use firm bananas and cut into 1-inch sections. Leave the peel on for easy handling, and with a melon baller, dig a well in the middle of each banana section.

• Melt chocolate in the microwave and dip the bottom portion of the banana in chocolate and then dip it once again in either non-pareils or chopped peanuts. To quickly harden the chocolate, place dipped bananas in the freezer for five minutes.

• Fill each well with ice cream and top with whip cream and a maraschino cherry.
Banana split bites, Mini Blizzards, and desserts served in shot glasses are perfect Adultitis-fighting weapons for waistline-minded warriors!