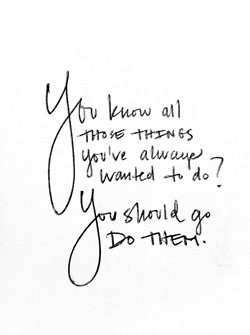 Bronnie Ware worked in palliative care for many years. Her patients were those who had gone home to die. She wrote a fascinating post detailing the top 5 regrets of the dying. Here they are:
1) I wish I'd had the courage to live a life true to myself, not the life others expected of me.
2) I wish I didn't work so hard. (This came from every male patient that I nursed. They missed their children's youth and their partner's companionship.)
3) I wish I'd had the courage to express my feelings.
4) I wish I had stayed in touch with my friends.
5) I wish that I had let myself be happier. (Deep within, they longed to laugh properly and have silliness in their life again.)
In life, we rarely regret the things we DID, even if they didn't turn out as he'd hoped.
No, it's the "I wish I woulda's" that suck.
Ultimately (and perhaps selfishly), the reason Kim and I have committed our lives to doing what we do is to have as few "I wish I woulda's" as possible. We champion this cause and write the books and give the speeches in order to keep ourselves from forgetting how easy it is to let Adultitis sidetrack you into a story that's not your own.
It's our hope that this work leaves you with as few "I wish I woulda's" as possible, too.