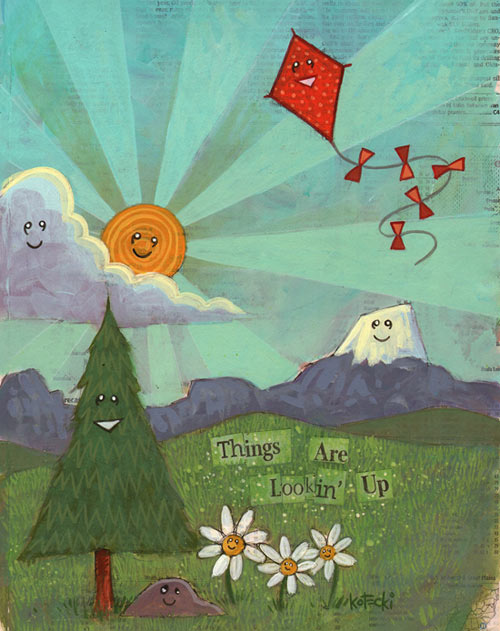 This is the first in a series of brand new art prints I'm releasing in the coming weeks.
I created this one in response to the global economic crisis. I don't know about you, but I've found it downright exhausting to hear the constant stream of negativity on the news and in daily conversation. No doubt, we are living in trying times, but no matter how dire the circumstances, there are always hidden opportunities waiting to be found. Some of the largest and most important companies and technological advances were born in the most challenging periods of history.
Some may discount the power of positive thinking, but the truth is this: You can't spot a good opportunity when you're looking at life with a bad attitude.
I used the weather section of a national newspaper as the foundation of this piece to serve as a reminder that it's up to us whether our future forecast is sunny or gloomy.
Two sizes of prints are available, and the original is, too. And in an effort to spread some extra positivity around, I'm also releasing this as a free download for Kim & Jason Insiders.

You can print it out on your home printer and hang it on your fridge, in your office, or anywhere else that makes you happy.
Download it here! (294 KB)